ChangeMaker Chats, Episodes, news
Sam Rye – ChangeMaker Chat
This week we explore what it would take to build a movement for nature. Sam Rye is a manager at the Conservation Volunteers Australia. He has been involved in a lifetime of work around regeneration and in networks involving decentralised leadership. He is bringing those two passions together to imagine how people can reimagine their relationship with the earth.
During the episode Sam Rye mentions some of the following:
Urban Shade – https://treesasinfrastructure.com/
CVA Website – https://conservationvolunteers.com.au/
Sam's Fieldnotes – https://www.samrye.xyz/
You can download this episode on Apple, Spotify, LiSTNR, Stitcher, and all your other favourite podcast apps.

For more on ChangeMakers check us out:Via our Website – https://changemakerspodcast.orgOn Facebook – https://www.facebook.com/ChangeMakersPodcast/On Twitter – @changemakers99 or @amandatatts
---
Join our weekly email list to hear our latest musings, podcasts and training. Click on this button to subscribe: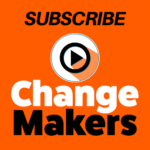 _

Comments
comments