Masterclasses
MasterClasses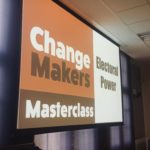 We run occasional masterclasses building on lessons from the stories that we report on during our shows. In 2019 we ran a series of MasterClasses on 'Electoral Power', and we also run bespoke training on advocacy, community organising, leadership, organisational transformation, strategy, evaluation, action and rethinking digital organising (these can be run online and face to face forms). This training builds on our host, Amanda Tattersall's experience as an organiser and educator for over 20 years.
This is what others have said:
"A no-nonsense insight in the forces pushing and pulling on our democracy and the potential for sustained progressive social change." – Mark Riboldi, Community Legal Centres NSW
"It left me excited and energised but most importantly itching to try things differently and DO." – Marcela Hart, Settlement Services International
"The class provided me with a new framework for thinking about building power for positive change and challenged me to consider what is possible." – Jason Wu, Repower and Stop Adani movement
For more, get in touch via [email protected].