ChangeMakers Masterclasses
ChangeMakers Masterclasses
Building power to change the world is a dynamic process. Which means it's always helpful to discuss your strategies and refine them.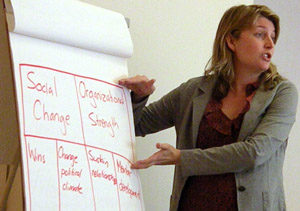 Pick apart what's going right, and reflect on how you could be more effective.
That's why we've set up the ChangeMakers Masterclasses. They're small seminars with a maximum of fifty people, presented by the host of ChangeMakers Podcast, Amanda Tattersall. We spend a whole day taking a deep dive into one aspect of change making.
2019 Season
In 2019, we're looking at power. How to build it, and wield it, as well as examining the best (and worst) practices from around the world. We're holding the first ones in Australia in February 2019 in association with Sydney University's PolicyLab, and then heading to Melbourne and several cities in the US and United Kingdom later in the year.
So check out the schedule below, and book your place. Maximise your impact, with ChangeMakers Masterclasses.
MasterClass 1: Electoral Power
This class focuses on how change makers can engage electoral and political power to pursue their social movement aims. We consider the continuum of strategies that can be used – from non-partisan engagement, to coordinated action inside and outside political parties, to the formation of radical political parties. We consider when certain circumstances are more likely to be successful and why – using examples from across the world.
We begin with exploring how social movements can use elections to shift political power. Why are they the most powerful political opportunity, but what are the political risks involved with electoral campaigning? We consider the roles of mobilising and organising in building issue-based electoral – and the significance of having post electoral social movement plans (like Indivisible's new post midterm Guide) to sustain power overtime.
To examine the world as it is – non-partisan political strategy – we bring in a leading former politician to tell us openly and honestly about what works and what doesn't work when it comes to social movement pressure, and explore our ideas about how conventional electoral strategies could be more effective. We add to this stories from across the world – from Indivisible in the US that has undertaken electoral work but has used that work to move Democrats as well as Republicans. We also consider stories from the non-partisan community organising political strategies of the Industrial Areas Foundation. What are the costs and benefits of these strategies, and under what circumstances are these mainstream strategies highly effective – and when are they deeply lacking in power?
We explore the new (old) strategy of "dual power" where social movements coordinate action inside progressive political parties and in independent social movements. We examine Australian and overseas stories – such as the current climate strategy in the US and Labor for Refugees in Australia. We ask – what are the circumstances that make this possible – and explore the need for social movement presence inside political parties (such as the Bernie Sanders movement in the US). We explore how these strategies could apply to local campaigns – like the Stop Adani campaign – and  unpick the strengths and weaknesses.
Then, we move to the cutting edge when it comes to electoral politics, the world of radical political party formation – where in Barcelona, Hong Kong, Chile and South Africa, change makers are forming new political parties to contest elections with the goal of winning majority support. We seek to understand what makes this strategy work and how it is different from say explicit minor party status – like the Greens Party. At what scale do these new party formations operate? What are the qualities of their leaders? How do the party machines organise themselves to win power and how do they protect themselves from turning into the same party machines that they are fighting today?
The day's discussion is held in the backdrop of the upcoming NSW and Federal Elections, allowing groups who are contesting those battles the space to reflect, re-assess and contemplate creative ways forward.
About Amanda Tattersall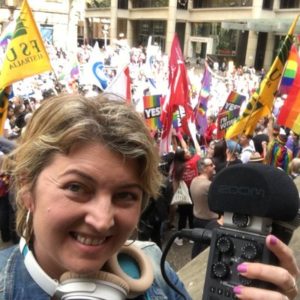 Dr Amanda Tattersall is an organiser who has trained ChangeMakers for over 20 years. Her book, Power in Coalition, rewrote the rules about how community coalitions can wield power. In 2007, she set up the Sydney Alliance, a broad coalition of unions, community groups, non-profits and religious organisations to change the balance of power in her home city, based on the principles of the Industrial Areas Foundation.
Before that, she co-founded GetUp! – the digital campaign organisation that has changed the face of Australian politics.
Price
Individual – full price – $299
Individual – student/concession – $199
Institutional – Admit one person – $440
Institutional – Admit five people – $399 each
(Plus ticket service fees. All prices include GST)
Schedule
The Masterclasses run from 9:30am to 4:30pm, and include lunch.
Masterclass 1: Electoral Power – BOOK NOW
Saturday, 16th February 2019 – Sydney University