ChangeMaker Chats, Episodes, Series Six Stories
Katerina Gaita – ChangeMaker Chat – Community Independents
How on earth did all those community independents win seats in the May 2022 Election? 

This ChangeMaker Chat talks to Katerina Gaita the Field Organiser and Volunteer Coordinator for Zoe Daniel's campaign in Goldstein. She unpacks the long march of the independents, starting with Cathy McGowan winning in Indi to the 'Wave of Teal' in 2022. As a community organiser and community builder she explains how she learnt to translate her skills as an activist to help her design a campaign that could win a majority of votes for climate and political integrity in a conservative electorate. In doing so she challenges us all to think about the place that elections can play in changemaking.
You can download this episode on Apple, Spotify, LiSTNR, Stitcher, and all your other favourite podcast apps.

For more on ChangeMakers check us out:
Via our Website – https://changemakerspodcast.org
On Facebook – https://www.facebook.com/ChangeMakersPodcast/
On Twitter – @changemakers99 or @amandatatts
---
Join our weekly email list to hear our latest musings, podcasts and training. Click on this button to subscribe: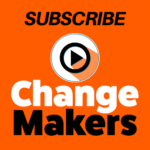 _

Comments
comments