ChangeMaker Chats, Episodes, Series Seven Stories
Anhaar Kareem – ChangeMaker Chat – Give young people the vote
Make it 16 and the campaign to give young people the vote in Australia.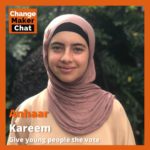 The episode is on all the podcast apps, and can be heard on ACAST here.
Today we talk with Anhaar Kareem – a 16 year old Australian woman who is part of the Make it 16 campaign seeking to give young people the vote. She shares her journey into making change – and the influences of he family and the place where she lives. She shares where the campaign came from, why young people feel like they need the vote more than ever, and some of the battles she and others have faced in talking with political leaders about why 16 and 17 year olds should have a political voice.
For more on Make it 16 you can check them out on Instagram, Tiktok, LinkedIn, X. Or their website: https://www.makeit16.au/.
For more on ChangeMakers check us out: Via our Website – https://changemakerspodcast.org; on Facebook – https://www.facebook.com/ChangeMakersPodcast/ and on X/Twitter – @changemakers99 or @amandatatts
---
Join our weekly email list to hear our latest musings, podcasts and training. Click on this button to subscribe: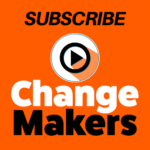 _

Comments
comments