Episodes, news, Series Four Stories
#29 Bushfires Part 2 – Renegade Aid in Batemans Bay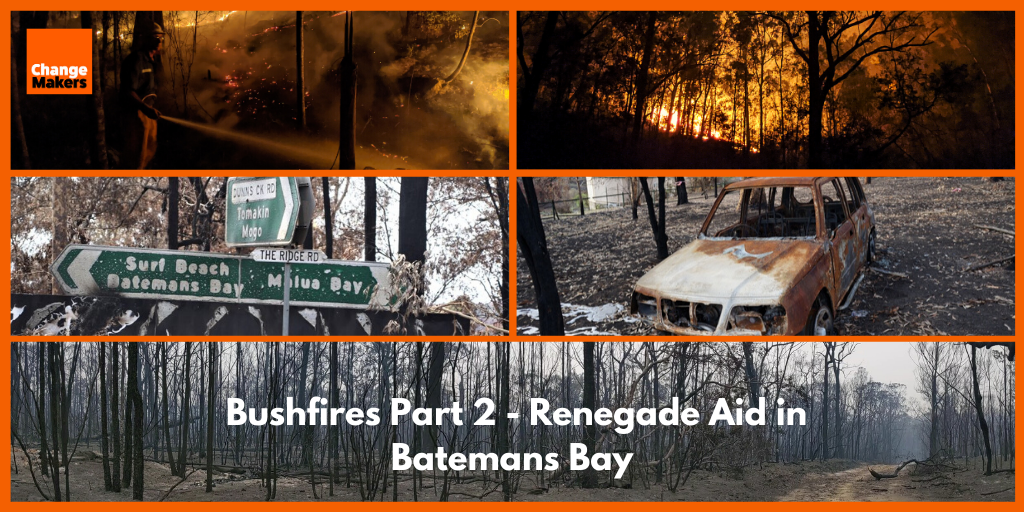 In all of Australia, Batemans Bay and the South Coast was one of the worst affected. With devastation everywhere, formal government services and charities weren't able to cope. This is the story of the little known community initiative that saw the breach and stepped in to fill the gap.
Listen by clicking play above, or listen via an app on Apple, PodcastOne, Spotify or Stitcher – or on most other podcast apps by searching "ChangeMakers." Or use our RSS feed.
Join our weekly email list to hear our latest musings, podcasts and training. Click on this button to subscribe: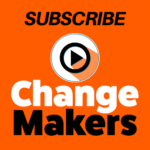 TRANSCRIPT
MATTHEW HATCHER
Reality is we came about because no one was doing a job that someone is being paid to do. You know, we shouldn't exist. Unfortunately, we've gone … from that we shouldn't exist to we're leading this whole thing. And while that's great that we've done it, it's upsetting and almost scary that we are doing it
HOST
Today on Changemakers we are in Batemans Bay on the South Coast of NSW. This is part two of our story about the Australian bushfires in the summer of 2019 – the worst fires on record. The beachside community of Batemans Bay faced one of the most extreme fires. How they unite to rebuild their town when government and charities failed them.
Let's go.
HOST
I'm Amanda Tattersall, welcome to Changemakers, the podcast telling stories about people changing the world.
We are supported by the Sydney Policy Lab at the University of Sydney. They break down barriers between researchers, policy makers and community campaigners so we can build change together. Check them out at https://www.sydney.edu.au/sydney-policy-lab/
The interviews in today's episode were undertaken in January 2020 by our reporter Mark Isaacs, who also wrote this episode.
ZOE
I'm Zoe and I live on the south coast and I am very lucky because I survived the bushfire without any damage to my home or my properties.
HOST
Zoe's partner is Diane, who lives in one of the small inlets around there called Malua Bay.
DIANE
It was quite traumatic to see what had happened to my area where I live… Everyone here is quite still in shock.
MARK
Can you describe Batemans Bay?
ZOE
the locals say why would you live anywhere else when you can live in Batemans Bay?…. It's got one of the nicest climates, I think it's seventh most temperate climate in the world  You've got beautiful beaches everywhere and you've got, well you did have nice bush around you. Beaches and bush. Yeah. Yeah, there's a bit of bush left.
HOST
Batemans Bay didn't have a renegade group of firefighters like we heard about in the last episode, in Wollombi. But they still had the same problem: the official services were stretched beyond breaking point.  Like in Wollombi, members of the community stepped up.
He helps a lot of people. He's that kind of a guy. He pulled a man out of a burning house down the road.
HOST
His name is Garnett.
GARNETT
I was coming home one Sunday evening, and I'd been out with some friends. I get up to the end of Casey's Beach and there was a fire in the front yard of this guy's house. I'd never been there, I'd never met him. But I knew he was an old man.  Mr Willis. He was in his nineties.  There was a strong wind that night and it was just roaring against his house. So his garden hose was hooked up and I grabbed it and I didn't have time to ring or do anything with the phone, so just squirt this thing  The coppers arrived as I was still getting the last of it out and they went in and pulled the old man out and I helped them carry him out on the grass then. And ambos came and took him away. Died next day unfortunately.
HOST
With the fire bearing down on the region, Garnett got in his car and started calling on friends. One of them was Frida.
GARNETT
She had the cat and the dog and the bird in cages and, and she was in no great hurry, but when I went up, I could see it was only minutes away from her place. So I got her downstairs in a car and chuffed her off.  The police were running around and the fire engines were running around and back and forward. But they were limited to what they could do. By the time they set up the hoses, it'd gone past them. So they were going up and down these streets near Frida's with a funny siren I'd never heard before. It sounds like it's an evacuation siren.  And they're running. They're knocking on doors. Out, out, out. Everyone go, go, go, go.  Frida had gone and I was ready to hose the place down and they wouldn't let me, they said get.
ZOE
He parked his truck opposite her house but he decided, he just for a split second made him think, don't leave the truck there. It's a stupid place to leave it. So he moved the truck onto the other side and went and got her and got her into the truck. And as that happened, where he had been parked just went into a ball of flame.
GARNETT
When you actually see some of the fires they they seem to create a vortex, their own little private tornado There's big pools of molten aluminium from the engine block and the wheels laying on the ground, just molten aluminium, just streams of it, cool now. That's the intensity of the fire.  It's total annihilation.
HOST
Frida was close to losing her home, but her neighbour, Violet, was even closer.
VIOLET
Took our fence down and that and the shed and burned all the mowers and the whipper snippers.
MARK
How long have you lived here?
VIOLET
Oh, 40 years.
MARK
Has it ever come that close?
VIOLET
We've never seen a fire like that.
HOST
Garnett sent Frida to the evacuation centre. Zoe and Diane had already decamped there.
DIANE
We looked outside and the traffic was just bumper to bumper. All evacuating. And I said, if we don't get in the queue, we're gonna be stuck here anyway. So we decided to go down to the evacuation centre.
DIANE
I had nothing packed. I had curlers in my hair and a pair of thongs and I just left…
ZOE
I don't know how people really decide. I mean, every time I left, I kept thinking, am I going to be sorry I left or am I going to be glad I left? Because, you know, you don't want to get caught in a fire, but you also don't want to lose your house because you weren't there to put out the little embers.
DIANE
It was a really hot day and everyone was just really tired and, you know, everyone was a bit stunned, not knowing quite knowing what they were doing. On the drive in everyone was hosing their houses down, the ones closer to the bay… It was so full that we parked outside the actual evacuation centre.
HOST
The evacuation centre was located at Hanging Rock, a sports complex with ovals and car parks. There was a small two-storey building which was full of people. Inside there was no floor space. Those who had cars or caravans stayed in their vehicles. Red Cross volunteers were trying to organise everyone,  but it was madness.
MARK
How many people do you think were in there?
ZOE
Oh, thousands. that was where you would go to register, but no one was doing registration. It was chaos. It was impossible to deal with that many people.  They had an area where they were making food and the Red Cross women were trying, sort of taking things around to people.
ZOE
Some people had gone and sought shelter in the Marine rescue, uh, house. And it was the tiniest space. But we were with a friend whose daughter was heavily pregnant and needed oxygen … she was crook, so we took her there where they got the ambulance to come.
HOST
And then the fires came.
DIANE
We could smell smoke. And then it went black. Absolutely black. Some people found it really hard to breathe. I gave out a couple of masks to people.
ZOE
The back of the industrial estate was burning, which was only a kilometre, two kilometres away. I knew that smoke was fresh… we were really close to the fire. I knew that, but there was nowhere to go. And you couldn't. Everyone couldn't leave at the same time. So you kind of had to wait there.  Obviously, people were scared. They were just all sitting on the stairs holding their children.  That was horrible. That was really awful to see people so afraid. They were all just sitting there in silence.
HOST
The problem was, once the fires had passed and the residents were allowed to return to their homes, they found a region completely decimated.
CLIP – ABC NEWS
https://www.youtube.com/watch?v=eMj7WE0v1yA
1.06 – 1.21
"Power is still out here, and this beachside suburb is still smoldering."
Few seconds later. ..
"Many have lost everything. 'You don't believe its going to happen to you.'
"It's hard to show the scale of the destruction on the south coast. There's a deep worry though the worst is yet to come. Lee Cusbuan on the South Coast Batemans Bay."
HOST
In total, the fire destroyed 176 homes along the South Coast, and killed 8 people.
Days later, when Zoe and Diana finally arrived home they had no power.
ZOE
The hard thing was that, of course, there'd been a lot of phone calls in and out. And we'd been looking for each other at the evacuation centre. So our phones are low already.
The only way of charging was to get in the car and to drive around There was no petrol. That was the other thing, you didn't want to drive around charging your phone everywhere because you're going to run out of petrol and you might have to evacuate again.  You had to really weigh up what you used your small resources on. You're trying to, um, eat things that are in the freezer that are going to go off. So Di has a gas cooker at her place. So we'd go down there when it was light, cook up what was going, you know, soft in the freezer.
HOST
They went to the shops for supplies.
DIANE
Lowes was open in town and they said, "People had nothing. They've got only what they stand up in. So we opened so that they could get some clothing." And then Kmart had, um, they'd opened until their generators ran out because people literally had no clothes, nothing.
ZOE
They didn't have a lot of generators here. They had to get generators in. That took a little while.
HOST
The roads were blocked due to the fires and so transporting goods into the area was difficult.
ZOE
I said to them, how are you getting the ice in? And they said, we've got a police escort because the road was closed for more than a week. There were police in the supermarket near the checkout. I think just to stop people getting overwrought, agitated.  People were greeting each other and bursting into tears.
HOST
Keisha's family were amongst the less fortunate.
KEISHA
Well, I've been trying to help my parents back on their feet because they lost their house.  Burnt down in these fires that came from three different directions, from the side, in front and behind. So there was no way of saving the house at all. The whole of Neraganda went up in flames.  I think out of 30 houses, we got three.
MARK
Saved three or lost three?
KEISHA
Saved three.
HOST
Keisha's family wasn't alone.
HOST
With communications proving difficult in the regional area, the residents relied on local radio for updates.
ZOE
We couldn't get TV. We could only get the radio. And it was battery radio. So it was really important. It was the only way we had of knowing what was going on.  The ABC dedicated a channel to the far south coast for the fires, and they just continuously updated us with who … needed to evacuate, where the evacuation centre was, where you could go to get things, what you needed.
ZOE
We would have been lost without it…
HOST
It wasn't until the television came back on a week later that Zoe and Di realised the scale of the devastation.
HOST
It was clear the community needed help, but what wasn't clear was when assistance would arrive and from whom. The first response came from individuals within the community.
ZOE
We had refugees, we call them, evacuees, come to stay in Di's house and she stayed here because there was a family who needed and I had people staying in the cottage because my guest couldn't come, so we had people evacuated there. I'd said to a lot of people, if you need to come, I'm still standing. Come.
HOST
Local businesses, like the local summer circus, helped where they could.
ZOE
People were using the area near the carnivals as an evacuation centre, I think it was unofficial.
The carnival people were very, very helpful and supportive and organised them drinks and food and things. They were like the dance band on the Titanic. They opened every night and put the lights on.
HOST
In town, an evacuation centre was established at McKay Park .
GARNETT
Anglicare disaster were in charge, or shared the responsibility, I don't know who they shared it with, but they seem to be doing it all. They're looking after the distribution of water and food at McKay Park.
HOST
The army stepped in to provide water, as local supplies had been contaminated.
HOST
But there was a problem. Matthew Hatcher was a local cafe worker.
MATTHEW HATCHER
I saw a truck dropping goods at a local petrol station that had no power and … the driver said, oh there's another truck coming, he's forty five minutes behind me. He's gonna come here and drop more goods. And people were queuing up and they were almost fighting, cops had shown up to direct traffic and to get people into queues for canned goods, and nappies and things.
MATTHEW HATCHER
So there are these massive spots all over the country where these donation drives are happening and they're still happening now.  They'd already collected the goods and they were on a truck and the truck was already on its way to the region because they knew we needed the goods quickly. But the truck had no destination. They just were sort of hitting evac centre after evac centre being turned away, all the way down the coast until they found someone that would take it. And some of the drivers were sort of at the point where they were saying, well, I'm just gonna have to drop it anywhere.
HOST
It sounds crazy. The supermarkets had empty shelves and at the same time truckloads of donations were being turned away. What was going on?
MATTHEW HATCHER
I called the local council and their stance was the trucks needed to turn around. They just didn't have the storage and the evac centres didn't have the storage either for these donations that were coming in and they didn't have the time for logistics of taking it on either. When you're talking a regional centre, you're talking just a local footy pitch. It's the local surf clubs. So the storage facilities might be just a closet, so they can only really hold a maximum four or five pallets at a time. And they've got people there. So they're completely at capacity. They're totally full, they turn the trucks away, so the trucks then know not to come back to that spot any more. Two days later, they're out of food and they've got nowhere to go and there's no one to give them more food.
HOST
Why hadn't the government stepped in? Or at least the charities in charge?
MATTHEW HATCHER
There was no organisation or agency in place to take the goods, to house them, to inventory them, to disperse them to the smaller points for collection by the public. The agencies who are supposed to be leading this aren't even standing up….It's quite scary that, you know, yesterday alone I got a text message from a person from our local council asking me if I had any water for them because it was a 45 degree day, there's nowhere in Batemans Bay that you can go and get water because the Army have basically pulled out. I keep taking a big step back and looking at this region and I can clearly see through all the smoke that there's no leaders right now and no one is managing the situation unfortunately.
HOST
Matthew stepped into the gap.
MATTHEW HATCHER
I took it upon myself to put it out on Facebook. Ask mates for warehouse space.  The idea for me wasn't, I'm going to take this on, it was, well, I know we're going to need more goods, so maybe I'll just see if a mate has a warehouse and I'll store a couple of pallets and we'll see. I had two mates straight away said, yep. You can use my warehouse.  Someone on Facebook said, you know, there's a truck coming. I don't know where to put anything. So I posted, yeah bring it to this warehouse. So had a couple of mates meet me there and we unloaded it. And very quickly, a truck driver contacted us and said, hey, I saw that you were taking goods, can you take another one? So after that, we got another warehouse and then another warehouse and it just grew so quickly.  So we became very quickly known as the spot to go to get rid of goods. So we just reached out to more and more warehouses. Businesses all up and down the coast, Batemans Bay, Moruya, Narooma.
HOST
Once it became known that that Matthew was at the centre of things, outside groups started coordinating their help through him.
MATTHEW HATCHER
In the very early stages, mainly they were coming from Sydney and Canberra. A lot of them coming from Andrew Dell at the G Spot in Canberra. He's a guy who's got a sort of a big social media following. He puts them out. One Love South Coast who's another social media group.  They coordinate over Instagram, coordinate different drop spots, and then they get the goods down to us.
HOST
One of the first big organisations to make contact with them was the Bondi Surf Lifesaver Club.
MATTHEW HATCHER
Our connection came strangely because it was one of the very first deliveries that I got actually. Somehow someone reached out and said, hey, we've got this stuff coming down from Bondi surf club. So they came down and I'll never forget the girl who arrived. Her name was Peta and she was my first delivery person that wasn't a big truck and she was just in a little van. A Go Get van. So Go Get guys have donated vans and unlimited fuel to the Bondi Surf Club to do runs down to the south coast. She said to me, listen, I'm from Bondi surf club. Here's Brent's, the president's number.  This is day two and I'm a barista in Batemans Bay. And I'm like, why is the president of Bondi surf club giving me his mobile number?
HOST
So why did the president of Bondi surf club give Matt his mobile number?
BRENT
Brent Jackson, president of the Bondi Surf Bathers Lifesaving Club. So the bushfires is not in our standard operations, of course. And certainly doing a massive relief operation wasn't in our standard operations. And in fact, when we looked at our charter, when we thought, is this something we can do,  we are there not only to save lives on Bondi Beach and also to work with our general community at protecting lives, but also that we are to help support other surf clubs in their activities to protect lives. So when we looked at that, we could see that on the thirty first of December, at least six of the clubs down in the south had actually wound up becoming evacuation centres.  At Malua Bay, they actually evacuated to the clubhouse and then had to evacuate the clubhouse when the fires got that close and so the lifesavers there were looking after around 4000 people on the beach.  So we knew that the clubs down there wouldn't have enough gear for the process they were going throughAnd so we thought it was an important thing to try and reach out in our community here, We thought maybe, you know, if we got a whole van full of gear it'd be great and we could send that van down to one of the clubs down there and help out a bit  So that was you know, that was the the thought process behind it. But what actually happened was we put out … a post at about 3:42 on Friday afternoon just saying, hey, we're going to collect some bits and pieces. And, you know, if people want to donate to help us with the South Coast surf clubs we're interested and then we went to the pub We knew that there would be generous people in the community who would come. We just didn't have any idea of the scale of what was going to com, that's all. Went to bed and we woke up in the morning, came down the club about 8 o'clock to start setting up. And by that stage, we saw that something like 400,000 people had liked … the post and… 1700 people had shared the post. And our marketing head said, gee, you know, there might actually be a few people turn up today. By Saturday afternoon, the hall was full. We found a bit more room and we stacked some stuff there and we thought we were going pretty well at the end of Saturday. But when it got to Sunday, it was probably five or 10 times more stuff than came in on Saturday. So there were queues of cars all the way past the pavilion.  We were trying to shut at 3pm, we were still receiving some loads at 5 and 6pm. But the reality was the Sunday, we had to get very serious about getting the stuff back out because there simply was no room left in the place.
HOST
People were donating both resources and their time.
BRENT
We'd have people turning up who would just walk in, total strangers walk in off the street and say, how can I help? And we'd point them at a pile of things to sort or we'd point them at a packing area or a boxing area or a palletting area, loading area. And they would just go and do what they were told in that area.
HOST
This volunteer army became the basis of a major donation drive.
BRENT
We had to start palletising and shipping everything by the Sunday. And so we got our first load out Sunday afternoon heading to Cobargo and we then got four more loads set up to go first thing the following morning. By Monday morning, we had 120 people in the hall packing, sorting and structuring. We had another 40 or so out on the back loading and setting up loads.
HOST
At this point, the fires had prevented the Bondi Surf Club from having any kind of communication with the surf clubs in the South Coast.
BRENT
We sent emails and sent messages and received no response. And the training we have as lifesavers is when you don't see or hear a response, you just act and you work the rest of it out after that. So that's what we did.
HOST
They sent the donations to the south coast anyway and hoped someone could manage on the other end. It was at this point that Matthew Hatcher met Peta.
MATTHEW HATCHER
She said, just text me or Brent any time, whatever you need. It doesn't have to be a big story, just literally just type in what you want and press send. So I just did that.  It was amazing because .. there was cases like, for instance, a woman posted that all she needed through all of this, she just needed some fencing for her pig, her pet pig, it's a bloody big pig. But she lost all of her fencing and it kept getting away.  So I put in a request for fencing for a pig  30 minutes later, there's a photo from Peta, the first delivery driver, at a fencing shop loading fencing into the boot. Four hours later it arrived. And that night we delivered it. So it was instantaneous fixing of problems. And like I say, it's case by case as some people that's all they need. Some people need a hell of a lot more. But since then, Bondi really we've just had this great connection where they were always there for us.
HOST
And Brent and the Bondi Surf Club didn't stop sending donations.
BRENT
We knew that what will happen is everyone will get gear down there for the first week and that will solve the first week's problem. But then that stuff will run out and you'll wind up needing stuff in the second and third and fourth weeks, et cetera. So at the moment, we now have two warehouses, one has 35 pallets and the other has 45 pallets of supplies that are being held and released to the clubs down south as they request them, because they will probably continue to have needs for the next two or three or four months time beyond this initial thing.
HOST
The organisations who were officially in charge on the South Coast were not able, for various reasons, to rapidly distribute bushfire relief. The Red Cross, who had fundraised more than $100 million, came under fire.
The Red Cross' director of Australian services, Noel Clement, defended the organisation's approach to distributing donations on Channel Nine's Today show.
NOEL
https://www.youtube.com/watch?v=Tfxn5GWSD9g
What we are planning is phases of support for people.We've been raising money since July and we've been supporting over 60,000 people since September in bushfires.We've allocated $16 million to be committed to working in these communities for the next 3 years to support communities and recovery and the balance of those funds is for future, further, immediate, and long-term support. We've allocated $30 million for immediate relief for people who have lost their homes and those grants are going out at the moment. They're $10,000 grants. We've paid 700 of those so far.
CHANNEL 9
https://www.youtube.com/watch?v=Tfxn5GWSD9g
I think everyone understands this is very complicated… But we are hearing people in the fire zones saying that they need cash and they need that cash now. So when you say that there's only 700 grants that have been approved and more than 2000 homes have been lost, that's where people get upset that the money doesn't seem to be getting out fast enough and they need it now.
NOEL
https://www.youtube.com/watch?v=Tfxn5GWSD9g
We are working through those applications as quickly as we can. Our average time is 6 days to get those applications through and approved. Understandably some people are having trouble in the field being able to give us even the basic information that we are asking for to make sure we are protecting against fraud, etc. So we are sending people into the field to actually work with people to complete that information.
HOST
Matthew Hatcher understands why these bureaucratic processes are necessary.
MATTHEW HATCHER
… Those groups need those forms in place. They need red tape. They need full transparency. People don't want to donate their money and then find out that the CEO of Red Cross gave his mate a hundred million dollars. There has to be protocols. The public ask for that.
HOST
But these processes did slow down aid-delivery at a time when things were urgent.
MATTHEW HATCHER
Now the community don't trust them. They don't believe they're going to do the right thing. So they don't even want to go and talk to them. We are that linkage.
HOST
By acting fast, Matthew and his friends had built the trust. They called themselves SOCODOLO – the south coast donations logistic team.
Once they had found storage space for the initial drive of donations, they began distributing goods to individuals, businesses and organisations.
MATTHEW HATCHER
It just became a very amazing machine in itself to watch.
So we get rid of the goods as quickly as we bring them in, as soon as we find someone who's asking for it, it goes out.We understand that not everyone needs the same thing. So there's not a sweeping move of giving everyone ten thousand dollars that's going to fix this region. There are some people who do not want money. They simply want a swag.  Mainly the people who come to us aren't the people who need it the most. It's the people who don't come to us. There's too many too proud people out there who are unwilling right now to accept something. So we go out proactively into those communities. We go to the community halls, to the RFS stations, and we speak to people.
HOST
This new organisation partnered with more and more groups who were trying to distribute donations and goods.
MATTHEW HATCHER
The RSPCA, New South Wales and Victoria have come on board with us.  Go get. Find a bed.  We supply the RFS. We top their goods up. We had an MOU with the army, between ourselves, Convoy Missions Australia, and the army that we would be the supply of goods to them. So as they set their tents up, they would order through us what they needed, we would replenish their stock. So we just quickly became instead of a couple of mates who make coffee and have a couple of warehouses to an actual distributor for the entire region. Now we have shipping containers in Mogo, in Cobargo, in Kiama, and we send supplies to those regions as well to make sure that they're secure on site and they're able to be dispersed in those smaller communities.
HOST
Soon they were making specific requests for donations, like they did with Bondi Surf Club.
MATTHEW HATCHER
We have a network and it's a social network.  So any goods that we need to get down then we post it on Facebook. And we get someone in Sydney to collect it and bring it to Wollongong. And then someone there brings it down to us.
HOST
So why were these big organisations trusting this renegade group led by a barista from Alabama?
MATTHEW HATCHER
We are getting things done, we're getting goods to the people who need it.New South Wales RSPCA, for instance… They don't know where the farms are. They don't know how to get to the people. We have people down here who do know where these problems are.They send us people down here on the ground. We give them cases. They go and assess it. We work in partnership for the money to be channeled to the right places. We never touch any money whatsoever  We're just a group of people who try and connect the dollars that corporates want to spend to actual issues and get it done quickly.
HOST
SOCODOLO volunteers were on the ground. Other bigger organisations who were trying to help couldn't see the need from their helicopter view.
But also, being renegades, they didn't have to follow the rules that hampered formal organisations like the Red Cross.
MATTHEW HATCHER
They would say, well, red tape makes sure that we're not getting scammed. But what we say is you get scammed and you have red tape. We know the people we're dealing with.  It's never going to be a perfect system. We're going to give a generator to someone who probably got a generator off some donations somewhere else But it's a .. much easier system when you know someone who lives on the same street as that person. And we are in constant communication with the community.
We have no money. We're not looking for funding for us. We're looking for them to pay the bills. Like, you have the money. You have two billion dollars sitting there. We know where the problem is. We can go out there and fix it. We just need you to pay the bill for it.
HOST
As inspiring as the SOCODOLO story is, it's taken a toll on Matthew.
MATTHEW HATCHER
Unfortunately, none of us are paid for the work we do. We don't take days off. I myself don't really sleep much. We don't want to see someone starve. So if it's 9:00 at night and you finally get your mobile reception back and you're stuck on your farm and you ring me, you're gonna get goods in the next hour. We're not gonna let someone who lives near us in our community go without water or food. And that I think has been the biggest impact on the community. They see that we actually give a fuck, you know, like we're not clocking off at 5:00. I can't sleep if I know there's someone out there who has no water.
MARK
What kind of impact has that had on your, your kind of personal life and your work life?
MATTHEW HATCHER
I'll be honest. It's a huge financial impact. Myself because of the fire, I just personally haven't worked since definitely since mid-December. So that's that's been tough. Obviously, I've got a mortgage and a family with two kids.  It has taken a massive toll on me. I haven't worked for six, six weeks and realistically I took the entire month of January off as soon as this kicked off because I just said there's no way I can go back to work. And this is an around the clock job. There's been some, some tough conversations with my wife and, but I just keep looking at it like … it's the best thing for the community. But at what point to do you know, do we say we just can't afford to keep doing it because we have to pay the bills?  When am I going to get to go back to work?
HOST
Matt realises that, while the lack of money was initially an advantage for them, in the long run it could prove to be a curse.
MATTHEW HATCHER
I think the system we've got is working. We just are never going to have two billion dollars or a million dollars or a hundred million dollars to keep this going. We're gonna have to at some point rely on the agencies because our money is going to dry up. People are gonna forget about this crisis. It's gonna get yeah, there's gonna be something else somewhere else. And we're going to not have the focus on us and the ability to raise the funds. Not one person isn't affected by this. And there's so many people still in shock. And the trauma is gonna go on for a long time. And this area is a low socio economic area anyway. It's very high unemployment for the state. So now we've got major job loss, major houses gone. This is going to be a huge undertaking to rebuild this community, this region.
HOST
And he wasn't wrong. We recorded this episode just six weeks before the coronavirus shut down Australia.
HOST
For Zoe and Diane, ventures like SOCODOLO aren't surprising.
DIANE
The community response .. has been amazing. Everyone looks out for their neighbour here. It's quite amazing. When I went back to my house and the neighbours were hosing my roof, you know, they said, oh, we didn't know where you were. It's just that kind of community. Everyone looks out for each other.
HOST
As wonderful as this community spirit is, the message coming from Batemans Bay is clear.
ZOE
Clearly this is not gonna be the last time we have this kind of fire. Hopefully not in the same place, but then hopefully we can be more prepared and have more people and all that sort of thing to try and deal with it.
HOST
Of course, disasters come in all shapes and sizes. Even while the South Coast was still in recovery mode, a global pandemic started sweeping the world, confronting every community with some of the same challenges that the South Coast faced during the fires.
While the lessons of Covid-19 will take decades to process, one thing that has been apparent in the opening months of this crisis is that many community services and charities haven't known how to step up to the plate. Large charities have been caught between their values — which say they should act to help the most vulnerable – and risk assessments that dictate they can't. The result has been an eerie absence of big civil society organisations in the response to Covid-19. The gaps that were exposed during the fires, have again been made visible, this time across the whole nation.
Underneath this, there is a powerful story of hope that we can take from the bushfire experience. In Wollombi and in Bateman's Bay – facing overwhelmed or paralysed government agencies or charitable services – neighbours stepped up to help each other – protecting homes and creating pathways for donations.
But these forms of renegade aid came at a high cost that risked life and was hard to sustain.
Surely, there has to be a way to combine the community energy and knowledge of the neighbourly renegades with the institutional heft of the big agencies and state actors?
Everyone trusted Matthew because he was a local, and he built a team of locals that was connected across the South Coast. His spirit of connection connected him to people in other places – like Brent from Bondi Surf Club. It was connection that made Wollombi work too – everyone knew the Mosquitos because they hung out together in the local pub.
For organisations, and most importantly our politicians who aren't trusted, perhaps these stories provide a hint about what they are missing. Connection and relationships aren't hash tags or political slogans. They are ways of being in the world.
A legacy of the 2019 Australian bushfires was the resilience of connectivity. Our big nonprofits and our governments would be wise to take this seriously. Stop wondering why people don't trust you and start building relationships with those who are connected.
HOST
Changemakers is hosted by me, Amanda Tattersall. Remember to subscribe to this podcast to catch all our episodes. This is series 4 so there is plenty to be inspired by in our back catalogue.
You can donate to the South Coast community by visiting: https://socodolo.com/
Changemakers is produced by Ben Keating. This episode was written by Mark Isaacs, and edited by Charles Firth, and Amanda Tattersall. Our audio producer is Jules W. Our sponsoring organisation is the Sydney Policy Lab at the University of Sydney. They break down barriers between researchers, policy makers and community campaigners so we can build change together. Check them out at https://www.sydney.edu.au/sydney-policy-lab/
We are also supported the Organising Cities project funded by the Halloran Trust based at the University of Sydney.
Like us on Facebook at changemakers podcast and check out changemakerspodcast.org for transcripts and updates on all our stories.
ChangeMakers has a new weekly online training about community organising designed for these pandemic times. It focuses on relationships, building connection and the art of changemaking.
---
Join our weekly email list to hear our latest musings, podcasts and training. Click on this button to subscribe: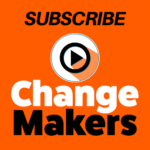 _

Comments
comments