Episodes, news, Series Four Stories
#28 Bushfires Part 1 – Black Ops Mosquitos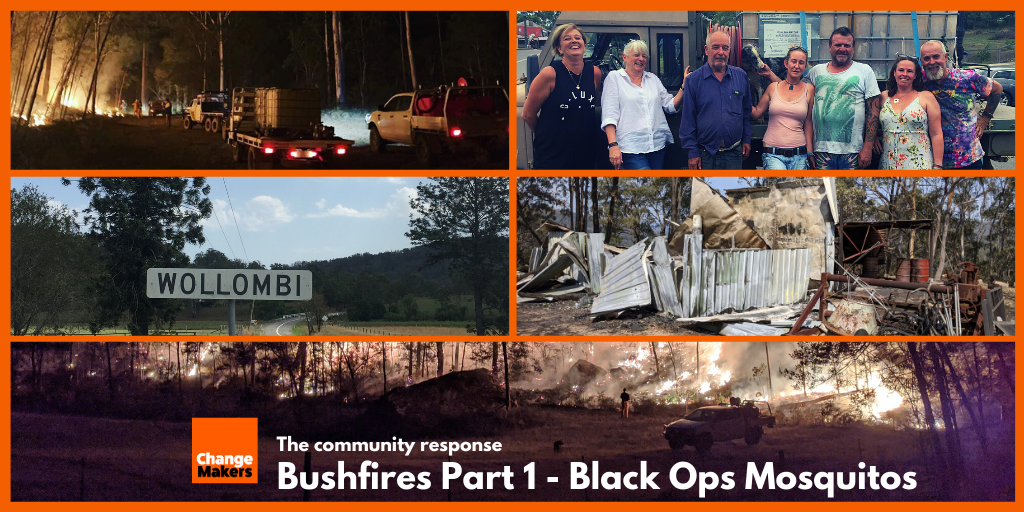 In the summer of 2019, Australia had the worst bushfires on record. Everyone knows the story of the official fires services. This is the story of the not-so-official fire fighting squad.
Listen by clicking play above, or listen via an app on Apple, PodcastOne, Spotify or Stitcher – or on most other podcast apps by searching "ChangeMakers." Or use our RSS feed.
Join our weekly email list to hear our latest musings, podcasts and training. Click on this button to subscribe: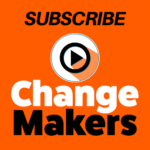 TRANSCRIPT
ROBIN
That moment of terror when you suddenly realize you've no longer got control… and you're going to lose everything. And it is going to spread and you don't know where it's gonna end… That clenching terror is just… I was at that point that I was, (gasping) you know, when you can hardly breathe. I rushed to the house. The one thing I could find the number for was the local store. And I called the local store. Someone picked up. Yeah, hello. I said, I'm on fire. Call the fire brigade. I'm on fire. I need help. I need help.And I realized he couldn't hear me and I'm screaming, I'm on fire, I'm on fire, and he's going, hang on a minute, love… and I could hear the fire roaring and I'm screaming. And finally he… said, okay, what is it you wanted? I'm on FIRE.
HOST
Today on Changemakers, our story is about the Australian bushfires. It's a two-part series, and in this episode, are in Wollombi a few hours north of Sydney to cover a story that was kept away from the media spotlight at the time. It's a tale of the risky actions people took together to save their own communities. It's a cracking tale.
Let's go.
HOST
I'm Amanda Tattersall, welcome to Changemakers, the podcast telling stories about people changing the world.
We are supported by the Sydney Policy Lab at the University of Sydney. They break down barriers between researchers, policy makers and community campaigners so we can build change together. Check them out at https://www.sydney.edu.au/sydney-policy-lab/
The interviews in today's episode were undertaken in January 2020 by our reporter Mark Isaacs, who also wrote this episode.
HOST
Fire has a rich history in Australia. For 60 000 years, First Nations people used fire to manage the land.
But with the arrival of white colonialists, Australia's relationship with fire changed. And over the past two hundred years Australia has had an increasingly fraught relationship with bushfires, which often rage uncontrolled.
2019 was the hottest and driest year in Australia on record. Even in August – before the end of winter – bushfires were burning out of control.
https://www.youtube.com/watch?v=nFRNXq899c8
Here it comes, here it comes.
HOST
Former NSW Fire and Rescue Commissioner, Greg Mullins.
GREG MULLINS
https://www.youtube.com/watch ?v=alIcTjfFfT8
The national emergency is climate change and it's driving natural disasters like these catastrophic bushfires. Hazard reduction has been very difficult to do because of climate change… We used to burn off a lot in winter. There's been up to a 25% reduction in winter rainfall leaving it far too dry and dangerous winds are stronger, temperatures are higher, so we just can't burn off at times when we used to burn off… Climate change is making that harder and it's making the bushfires start earlier in August instead of October and burn far more intensely.
HOST
The devastation was global news. This from the BBC:
BBC
https://www.youtube.com/watch?v=J__4V0ujlaU
Day after day, fire crews brave the front lines in a crisis that's still escalating. Many of the blazes are out of control and beyond anyone's experience. In a town in Victoria, a ghostly scene. Cars burned and grey with ash. UK scientists are saying the bushfires in Australia are a warning of what may be to come around the world. A new study of wildfires around the world from the Amazon rainforest to California, says human activity is raising temperatures and adding to the threat.
HOST
Our story starts in Wollombi, a small country town, located two hours north of Sydney. Where Robin de Crespigny owns a property .
ROBIN
You turn off at Peats Ridge and you go through quite nice undulating country. But all of a sudden you dip down into this valley and it's the bottom of the Hunter Valley. You drive through these beautiful green valleys and you've got the mountains on either side. And then there are other little people sort of scattered around. And then you get to this town called Wollombi, which is a beautiful historic town that's been really beautifully restored.
ROBIN
The sort of people that go there live there because they love the environment. Um, they love … the kind of community where you can have somewhere beautiful that's isolated, but you're not in anyone else's pocket.
HOST
Robin is a writer and her husband is a composer. Seventeen years ago, they were looking for a quiet weekend bush retreat so they could escape the hustle and bustle of inner-city Sydney.
They spent almost two decades building their getaway. At the beginning of this episode she tells a story about nearly losing her place to fire. It was saved then. But then came 2019.
ROBIN
We knew the … Gosper fires … were coming down.
HOST
Robin was at her home in Sydney.
ROBIN
I was here watching them in Sydney, watching the map, because I kept being told by people, it's better you don't come up. Even as landowners, they didn't want us coming up. So I kept saying, can I come? How can I come? And eventually they said, no, the roads are closing, it's better to leave it to the fire department.  So we kept thinking, oh, it's gonna be okay. It's gonna be okay. The last time I called them, I said, I'm just re-checking, you do know I have this property and its houses up there? You do know that it's on the top of that mountain? and you are sure that the firies will go up if anything happens? She said yes to all of those things. And then I said, okay, I'll agree not to come because she'd said the roads are closed, you probably won't even get through. You always can.
HOST
While Robin feared for her house, she had been receiving updates from a communications centre organised by the local fire brigades. But this was no ordinary communications hub. This was about as Australian as it gets.
THE PUB HUB
ROBIN
They set up a, what do you call it, like a ground control in the pub. So the pub was the place where everyone would go for information.
HOST
They called it the pub hub.
ROBIN
They could get a meal there. And the firies would come in and, you know, share information.  One particular woman was doing it, so the line, the line was always open and you could call in there and say, what should I do, where should I go, where's the fire now?
HOST
That particular woman was Cathy Books.
CATHY
Wollombi Cathy Books We've lived up here for about three years now and my husband and I purchased the pub just over twelve months ago.  The pub is Wollombi Tavern. Very historical place. It's the home of Dr. Jurd's   juice. Mel Jurd … used to run this as a wine bar. At the end of the night he would throw all the dregs into a baby bath and then he would bottle that and sell it off as jungle juice. It's a little bit more refined than that now
HOST
Cathy estimates there are about 400 permanent residents in the local area of Wollombi. Cathy's friends, Charles and Amanda, are local RFS volunteers .
CHARLES
We had four fires going at one stage. There was the Owendale fire, which is to the north, Little L to the west, Crumps to the east. And there was the Gospers fire coming in around to the south. So all sides of this village were threatened. Quite nerve-wracking.
HOST
Charles has been fighting fires here for over 20 years.
CHARLES
I think this is the worst we've seen here ever, or since records are being kept.
CATHY
I think the majority of people driving around with chainsaws in the back of their car… plus water tanks, plus pumps. So everybody was fairly on edge. if you didn't hear from somebody, or see them over a few days you'd go out looking for them.
CATHY
We'd been threatened with these two fires for quite a few weeks before they actually hit because there were lightning strikes in dense bushland. So no one could get in there to put them out.
HOST
Once the fires made it to town, the focus changed from putting out fires out to protecting houses.
CATHY
A lot of all the businesses in town basically closed during the fire. And we made the decision to stay open because the pub does tend to be the centre … when something drastic happens. For instance, when we had the floods … this is where everyone comes to get their information. So we stayed open. We gave the staff the opportunity to not come in if they wanted to, but they all did. And I said this a few times, we'd never have been able to stay open if it hadn't been for the staff being just so committed … The RFS, they decided to set up a communications kiosk out the front to give people information so people weren't calling into the fire shed constantly for information.
AMANDA
So we set up a kiosk here which we had open every day and we had up to date maps and we had a big TV screen with the fires near me app on and people were calling in and saying, is it okay? Can I get through?
We were keeping a register of … which people were in the houses and which people were out of the houses … which we were then able to feed back to the RFS headquarters.
CATHY
Even when we closed … the kiosk, people were still coming in to get information… to see whose place was now under threat and had they saved that property. People were … ringing the pub, to go to say, is the road open? Can I get through? If I come through, will I be able to get out? It just sort of built… People were aware that we were open and it was just the focal point to come to. It was hectic in that there was so much information that was flying in and out all day.
HOST
The pub quickly became more than a communications hub. It acted as a community centre.
CATHY
The pub was providing the meals for the RFS strike teams that were going out.
AMANDA
There were also a lot of people cooking and taking meals down to the RFS.The community spirit was fantastic.
CATHY
Donations … were sort of distributed from the pub. People were coming in and putting five hundred dollars on the bar and saying that's for RFS members and the black ops to get a free drink…
HOST
Hang on. Did she say black ops? We'll get into that shortly.
CATHY
People that I haven't seen for years from Sydney were messaging me going, how do I donate? I want to buy a keg for the RFS.
HOST
I love that outsiders thought that the thing firefighters needed most was a beer.
The pub became such an important part of the firefighting operations in the area that the firefighters took serious measures to protect it.
CATHY
We had three New South Wales fire and rescue trucks parked in town at one stage and their brief was to protect the pub only because that was the fire that was going to threaten the pub.
HOST
The pub even hosted an unlikely event in the midst of the chaos. Amanda Clymo is an author of historical fiction and she was supposed to be releasing a book in December but the fires had effectively cancelled most celebrations in the area.
AMANDA
The book's called, The Girl In The Painting. And it came out on December 16th, which was we were right in the middle of everything happening here. And because the other restaurants were closed, I couldn't have a book launch. Everything was cancelled. And then I got my box of books from the publisher. So I brought them down here and we had a couple of drinks and we launched the book here.
HOST
This type of community reaction wasn't a surprise to Cathy.
CATHY
everyone just sort of pitched in and did what they had to do.  I was impressed… In retrospect, I didn't expect it to be any different. I assumed that that's what makes the small country town, is that sort of thing.
HOST
But there was also something else going on. As people were evacuating their homes and leaving them vulnerable to fires, an unofficial local initiative formed to protect the properties.
CHARLES
Brian and Sally in Stockyard creek. Now, Brian's been in the brigade for thirty years.  Brian and Sally were in their mud brick house, pretty well prepared. They were calling triple 0 and said, we need help. We need help. We need help. And they got a call from the police to say, stop calling triple 0 because you're annoying them. The RFS wouldn't send any tankers in there. There's no communications.  There's no communications, there's no radio, there's no mobile phones. The mosquitoes turned up. They turned up and helped Brian, kept the fire away from his property and Allen next door and Ashleigh one this way and saved those properties.
HOST
Mosquitos? What's he talking about?
CATHY
The Black Ops Mosquito Squadron
NOME
Blackops isn't just stay and defend, it's stay and defend other people's property.
BLACK OPS
https://www.facebook.com/naiomi.young/videos/10157157995638019/
So fill up your glasses and let your hair down, for the drunkards and rebels and for standing your ground. Well there goes Christmas but it's New Year's again and the world keeps on burning and we're dancing for rain.
PJ
I'm P.J. Wallis. I work in a food van. Well, I can tell you how I got into the Black Ops was more the fact that a friend of mine had a property up at Stockyard, Stockyard Creek. They were out there by themselves. They came into town very freaked out. I was like, well, we'll come out and help you see what we can do. We got out there and put out what we could of the fires. We were waiting on the RFS to arrive. But unfortunately, because of the comms, they weren't able to come out there for safety reasons… So it just started with a bunch of friends trying to help friends' properties from burning down. And then sure enough, we ended up with these rigs and people started donating things and people had these palicons with water that they were able to use. And we got phone calls to say, you know, look, it's getting close to our property. Are you able to come out and just help? And then it just got bigger and bigger and bigger.  We were able to put a lot of people's minds at ease, I guess. It's scary if you're in the middle of nowhere and there's absolutely nothing but bush around you for kilometers.
HOST
When the fires came through the valley, PJ watched the population of Wollombi evacuate and drop to just one hundred people.
PJ
The hundred people that were left here did everything in their power to save the places. Some people didn't even know the properties they were saving.
NOME
I'm Nome Young. 'm a horticulturalist, I work at a wholesale nursery. The first fire, I went out with P.J. We had neighbors down the road. They came out to find out new information. And they weren't they weren't allowed back in again to defend their properties. And. I was just like, fuck that, fuck that, Next morning Carl phones me. He's with RFS. He's setting up at our mountain and he said the mountain's going up. We're sitting here. She's burning. And. And our neighbor's property was just at the bottom of that hill.  I phoned them and said, do you want to go and defend?  I've got the rig, the six wheeler. There she is. Got her and I've got a crew if you want to go… And she said, I'll talk to my partner. And she phoned me back and she said, Yeah, we do want to. I said well don't stop at the roadblocks. Just keep going. And we did. We did. We went through and we saved that property.
HOST
The RFS volunteers can't save every house or property that's at risk of being burned down. So the renegade crew of Black Ops Mosquito firefighters act when RFS volunteers aren't allowed to.
CARL
G'day mate, I'm Carl.  I'm an earth mover.  I'm a firefighter and I've been out there every day that I wasn't at work, you know, out there fighting fires The RFS, yes, God bless them, they are looking out for the safety of their members. 100%. If it's too dangerous. Get out. And I've been in that situation a number of times as an RFS and on fires. It's about just being safe The thing is, with the Black Ops, you know, the Black Ops Mosquito, we will push that boundary just that little bit more.
PJ
If we decide as individuals, we can take this on and we will stand and whatever. That is completely up to us. That has got nothing to do with any liabilities.  We have ourselves taken on the choice to stay.
HOST
Like Carl, many Black Ops crew are also RFS members. To them, it doesn't matter whether they are wearing the yellow shirt of the RFS or the blue shirt of the Mosquitoes. Their work is about protecting family and friends.
TONY
The amazing thing here was is that when our RFS people and this is community, when our RFS people got out of their yellows  people like Carl just put on a blue shirt and he was on the back of ute and a land cruiser and were out there doing Black ops ratty shit.  There was palicons on the back of utes. There were firefighter pumps on the back of utes. And they didn't stop. And then on Tuesday or Monday they were just back at RFS in yellows. What we went through when it's a fire storm, when that come through our valley like a banshee, when it come through here. As a community or as a family, we just rally. And just nothing else mattered.
HOST
I know what you might be wondering. Is it worth putting your life at risk for a home that could be rebuilt. But it's not like these people didn't know what they were doing.
PJ
We might have been a renegade little bunch of people with their cars going out, but we were, we were really well set up. We were very smart with what we had. We all had the proper equipment. So we had gloves donated, goggles donated. We had the PT masks. It wasn't like we were running out there bare legs, bare hands, fighting fires. We actually had quite a lot of proper equipment donated to us to use.
MARK
What's your setup for your trucks and your utes and cars and things?  Can you describe what you've got there?
NOME
We've got a chainsaw, a blower, we can carry two thousand litres of water.   We can draught. We can pump out of two hoses, got radios, radios were donated, five thousand dollars of radios were donated to us. All our rigs are named.
MARK
What are the names of your rigs?
NOME
I've got Big Girl
TONY
Oh mine is ANZAC. Lest we forget. That's me number plate. LW4get. Lest we forget.
NOME
There's Bogan Dust.
CARL
All the politically wrong names.
HOST
So why are they called mosquitoes?
BLACK OPS
It's because we're fucking annoying. A pain in the arse. The RFS actually named us. The Black ops mosquitos.  Because we are just everywhere. So, so quick and so mobilised.  And every time they got to a property there was one of us there already.
MARK
How many people do you think were involved in the black ops?
NOME
I think it's about sixty five. And it goes from … from Broke to Buckety.
HOST
But the BlackOps also believe there are renegade groups like them all over Australia.
TONY
There's nutters everywhere.
HOST
They are not wrong. They are so prolific that one of the Changemaker producers, Ben Keating, formed a similar group called the Boree Pirate Bush Fire Brigade.
BEN
Boree is a tiny isolated hamlet, it's a remote valley deep in the heart of Yengo National Park. Wollombi is slow half an hour drive along a dirt road through the bush away.
Laguna and Wollombi RFS were stretched fighting the fire elsewhere, and due to the remoteness of the valley, we had to deal with it ourselves –  days stretching into weeks.
Boree residents had utes with water tanks strapped to the back or water tanks mounted on trailers and there were times when this ad hoc assortment of farm machinery looked like something post-apocalyptic. We had our own bulldozer cutting fire breaks. Tractors with ploughs doing the same. High powered leaf blower teams clearing leaves from the fire trails surrounding us in the National Park, doing everything we could to slow the passage of fire and save pockets of bush and ultimately our houses.  And we worked brilliantly as a team.
We had countless nights with just us residents managing the fire and then there were nights of backburning operations, where we were dealing with a fire line well over a kilometre long.  Not a house was lost and most of the valley floor did not burn due to our efforts.  The Boree Pirate Bush fire brigade had come together out of necessity.
Laguna RFS did eventually come to the valley and were just superb,  – a godsend – and we'll be forever thankful, but for many weeks both before and after they came,  we dealt with it ourselves.
HOST
Back in Wollombi, the Mosquitos were lucky enough to be able to coordinate their missions from the pub hub.
PJ
During the times of the fire, especially up Yango Creek when it was very fierce they lost all their Internet and they lost all their phone lines. We don't have mobile phone reception out here. So it was really important to coordinate and all meet at one point so that we could work out what was going on. And here, this pub was it, because you know without information or without knowing how far the fires are, you could see the smoke. You could smell it. You knew that it was close, but you had no concept of just how close it was without Internet. So everyone would come here to meet. We'd all find out exactly what was going on. And then we would take the appropriate equipment and disperse and help.
HOST
As prepared as they were, it didn't make their work any less dangerous.
CARL
I knocked off work at 6 o'clock on a Thursday afternoon And then I got called out that night, that very night.  And then boom out there, me and another bloke, three homes. Three homes. We saved that night. Three friggin homes.  We pulled up to pulled up to this house and I said, man, there's friggin flames lapping up underneath the house. We've gotta do shit. We've got to act now. We were it. There was no one else but us. Two of us.  So we just running and hosed the house down. There was steam coming off the side of the house. we finally got things under control as such. And then a tree fell down. I went, woah, shit. Because you don't hear or see the tree or whatever.  Then all of a sudden, I heard bloody um, boom, boom, boom. Just this, just this thing coming out and I didn't know what it was, didn't know where it was. Cos it was night time. It was a rock rolling down a hill. A massive big rock. Massive one. I just said to him, I said, fucking run mate. Just run. Get in front of the truck. Get in front of the whatever. You know, just hide. And the rock bounced off and landed from where to your girlfriend is. That's the dangers of of being out there, man.
HOST
Well, if you hadn't guessed already, most of these interviews were done in the pub.
Sadly, the RFS and BlackOps couldn't protect all the homes in the valley. At the time of the interview, the BlackOps crew thought 21 properties had been lost. This number would've been a lot more if it wasn't for the combined efforts of these brave renegades and the RFS volunteers.
NOME
We are fucking special. Yes, we are. I'm like, fucking proud as punch. I am.
HOST
So what does all this have to do with Robin and her weekend property in Wollombi?
CATHY
So Robin has a pretty incredible story of her trying to communicate.
MARK
Do you remember that evening?
CATHY Yes. Yes. She was good. She rang every day to get an update. I think the black ops guys were up there helping to fight that one because we couldn't get the trucks up.
All the pollies and top dogs are shirking but there's nowhere to run, from the air that we're burning and an angry old sun. All the moneys and lives that are wasted but we are failing the test. We could ask the old keepers but we think we know best.
DI
I'm Di
ROB
and I'm Robert Williamson.  I'm mainly a life coach, really, and an energetic healer.
ROB
We were a side fringe of Mosquito Ops.  I personally didn't fight any fires with them, but my son did.
HOST
Rob and Di are Robin's neighbours who have lived in the area for 30 years. Our reporter Mark, didn't interview them in person when he was in Wollombi because they were too busy fighting fires. Instead, this interview was conducted over the phone at a later date. According to Rob and Di, the day the fires were approaching Robin's property was a high alert day.
ROB
It was a very high intensity day and there were fire services going everywhere.
ROBIN
Di who lives at the bottom of the hill. She works at the real estate agent and she'd actually taken the day off because she said she was worried because the fires were getting close to their place.… They'd gone up in the morning to check our place and they'd come back. And then during the day, she kept saying to Rob, you know, I feel really uncomfortable about this. I just don't know what it is. I got a bad feeling. Let's just go and have a drive around. And what they were used to doing and they used to do this at night. And so did a lot of the residents in the community. They'd drive around at night, because you could see at night if a fire was taking … a house … or if it was getting near a house. Whereas in the daytime, it's not always as easy to see…
HOST
So Rob, Di and their 19-year-old daughter, Abby, jumped in the car.
ROB
My daughter really she just sensed the urgency and she didn't even bother getting changed,  She was in these tiny little jeans shorts and a singlety T-shirt top and basically her little boots and she had no protective gear.
ROBIN
They drive up the drive, they get to the gate. And Darren, who is our plumber, with his son, Malachy, are driving home from the Gosper Fires because he's, uh, a volunteer, but has his own fire truck, small fire truck. And he'd been fighting the fires all day. and they just come together exactly the right moment.It's the first miracle of timing.
HOST
So Rob, Di and Darren bump into each other at the gate and Darren and Malachy decide to go with them to Robin's house.
ROBIN
Darren said what are you doing? And they said, oh, we are just going up to check up on the ridge to see Robin's place, we are a bit worried. And he said, uh uh. I've got time, I'll follow you up. So suddenly we have a fire truck actually going up. And when they get there, they find that the fire has completely encircled … the house and studio. And it's roaring. So they drove right into the middle of the circle and started fighting it.
ROB
Sure enough, the fire was coming up the hill with some strength and it had already reached the corner of the house. And. And we just jumped into gear. We just split into two teams, we didn't require any discussion, we just knew what to do.  My daughter and I got to and we must have put in 150 meters of rake-hoe line with the fire chasing us. we just went like a thrashing machine.
HOST
A rake-hoe line is a clearing or fire break made with a tool called a McLeod rake. On one side, it's a rake, on the other it's a hoe. It is fast and exhausting work.
ROB
I came up against a tree that would have been a break in the rake-hoe line, which would have allowed the flame through and I went to pick this tree bit up, which was bloody heavy and I thought, nup, I'm not doing that on my own. Well as it turned out I kept going and my daughter went back and picked the tree section up, big branch thing tree. It was an old tree. And she threw it into the area of the flames on her own. She said she near passed out doing it. And she's she's all of about 5 foot 5. Anyway she found the strength. We managed to draw that flame downhill, which gave Di and Darren, his son Malachi … It gave them a chance to fight the flames and get some water on the house and start clearing debris without the other fire drawing it up.
HOST
Abby then used her phone with one bar of service to send text messages asking for help. One of those texts went to Jo, a lodger in Robin's studio who had already evacuated.
ROBIN
She called the fire brigade and they said they couldn't go up because it was, it's a dead end and they're not allowed to under their fire and safety, um, conditions. if the fire gets behind you, you can't get out. I think that's the logic.
HOST
Another of Abby's text messages went to her 17-year-old brother, Tom who was down the hill at the time.
ROBIN
Now we don't get reception up there. We never get reception up there. No one does.  … she texted her brother Tom, who was down at Scotty's, who was also with another neighbour, Nick. And she said, we're on fire. You know, get up. And Nick had a truck which had those square boxes of water and he had a couple of those on the back of his truck. So they came up. So there's two more people… on the way, they contacted the chef. This is where community comes in. The chef from … one of the cafes in Wollombi, who just happened to be free and had come home.  I don't think they knew that the fire trucks couldn't come until they'd already got up there.So now we've got four men, one woman and three kids, teenagers all up there fighting. What is the possibility, you know, the the odds of that occurring, all those people being able to meet each other, be able to call each other and actually get through on their phones and muster eight people to get to a mountaintop, which even the fire brigade said it was, too, you know, dangerous to go up.
ROB
we all shifted then leaving Tom at the house to keep putting out spot fires. We shifted our attention to the other house. And you couldn't see between the two houses. The smoke was just red and the flames were large and the just the fall, all that flame from both sides of the hill burnt up to each other.
ROBIN
The fact that it was on either side of the ridge is unusual because usually it comes up one side and you can run down the other. But it had come along the side so that it was actually on both sides. Which is why it took eight people. They had the fire trucks on the bottom house, which was in most danger, and the others went up and started preparing around the other one. The garden hose was holding the fire back once the fire truck, the force of the fire truck had taken the main flames out. And then the garden hose, the kids were using that to put out the logs and things that were right near the house. Because the smoke was so thick they couldn't see very much. They could just see the flames.  They kept calling to each other like, you know. Tom, where are you? Are you alright? And he'd go back. I'm on the balcony. I'm holding it. It's okay. You know. Andy, where are you? So there were these voices constantly going through the roar of the fire, um, calling out to each other to sort of check in to make sure nobody was in trouble. And they were basically sort of gradually backing up to the escape route. Di said at one point she looked around and saw the fire on either side of where she'd parked the car and she went what am I going to do. And then she went and, ah fuck it, it's insured and went on hosing.
ROB
We were able to clear around it and contain everything that approached that house. We were a well-oiled machine that just had no rehearsal.
HOST
But even a strong machine can feel like it's met its match.
ROBIN
There were two occasions where Darren said we we gotta let it go, we can't save it. And they didn't let it go. They kept fighting.
ROB
We never felt like we were in danger. We knew our way out. And we're familiar with the way fires burn through here. We were quite relaxed with the circumstances we were in, it was just the intensity that we had to work in creating the fire break.
ROBIN
All of those … people fought for what I think it was like three hours or something, and they finally saved both buildings. There was nothing left except the buildings.
HOST
For Robin, the news that Di and her family had saved her house came as a surprise.
ROBIN
I didn't talk to Di until the whole thing was over. I got a text saying the fire did take your property, but your neighbours have saved your house. And I'm sitting at a dinner table having a Christmas dinner. While they're fighting to save my house. It was just terrible.  Can you imagine the guilt you feel? And you never get over it. I promise you. It's terrible.
HOST
As guilty as Robin felt, she was also able to recognise that this was the community she had grown to love.
ROBIN
It's an extraordinary thing. And particularly as they didn't know me that well. It was just I mean, I'll never forget it for the rest of my life… it's such an extraordinary gesture of just, um, generosity and goodwill. Whenever I say to Di but it was incredible what she did, she said, that's just what you do. You know, someone's in trouble and everyone goes there. Then you fix it up and then you move on. And there's no big ceremony about it.
HOST
Indeed, when asked, Rob tried to downplay the gesture.
ROB
For me, it wasn't a big deal I was just doing a neighborly thing that I felt comfortable doing.  We've had lots of experience with fire and we've been fire-trained. We've done our basic firefighting course and so forth. It wasn't the type of fire where we were going to be perishing in ourselves. It didn't have the intensity of heat that would have exploded a house.
HOST
Rob says there's a reason why the BlackOps crew are so effective.
ROB
There were a lot of fire crews in the area that had never had any experience here.  It does help having that local knowledge
ROBIN It creates a kind of new level of humanity, doesn't it? Because none of us are doing it for any gain. I think it's what's happening all over the country.
MARK
What does it feel like when you, when you do save a house?
ROB
The job's done.
HOST
By the time we'd finished recording this episode, Wollombi community was safe. At least for this season.
HOST
In the second part of this bushfire series, our reporter Mark Isaacs travels to Batemans Bay, on the south coast of NSW, about 4 hours south of Sydney, to explore how communities rebuild after the devastation of one of the most ferocious bushfire seasons ever.
CARL
We thought we thought we had it easy here. Down south, down there, those poor bastards down there. I friggin' feel sorry for them.  what's going on down there is horrific.
HOST
Changemakers is hosted by me, Amanda Tattersall. Remember to subscribe to this podcast to catch all our episodes. This is series 4 so there is plenty to be inspired by in our back catalogue.
Changemakers is produced by Ben Keating. These two episodes on Bushfires were written by Mark Isaacs, with script editing from Amanda Tattersall and Charles Firth. Our audio producer is Jules W.
The song we use in this episode was a recording by a Wollombi local, Brian Dillon. Brian cleans the pub and is the town's local snake catcher, tracker, muso and stay at home dad. He wrote that song on New Year's Eve. His week old baby had been evacuated but he stayed to fight the fires.
Our sponsoring organisation is the Sydney Policy Lab at the University of Sydney. They break down barriers between researchers, policy makers and community campaigners so we can build change together. Check them out at https://www.sydney.edu.au/sydney-policy-lab/ We are also supported by Amnesty International, Settlement Services International and the Organising Cities project funded by the Halloran Trust based at the University of Sydney. Like us on Facebook at changemakers podcast and check out changemakerspodcast.org for transcripts and updates on all our stories.
And don't forget to register for one of our MasterClasses if you want to take a deeper dive into the art of ChangeMaking.
---
Join our weekly email list to hear our latest musings, podcasts and training. Click on this button to subscribe: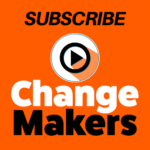 _

Comments
comments