#26 Power of March for Our Lives – Identity Matters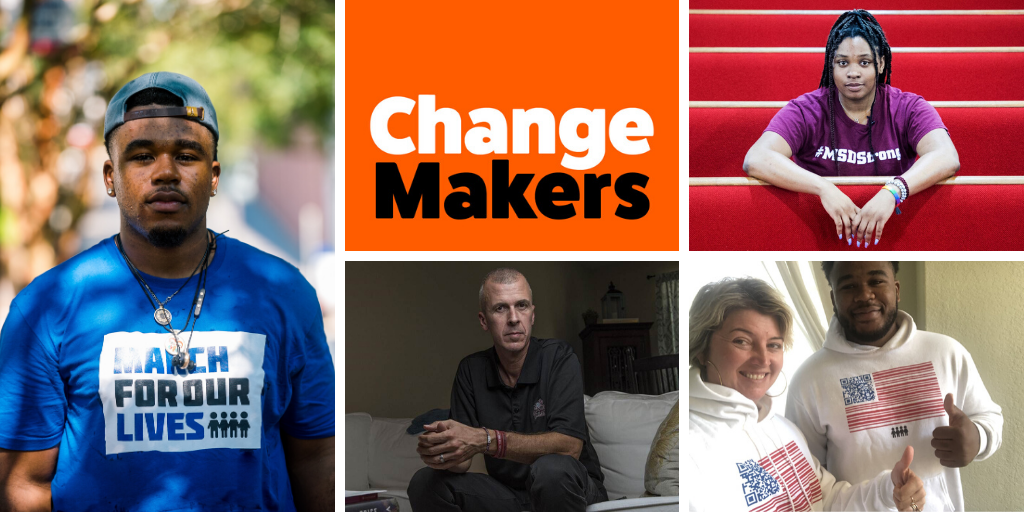 In the US, gun violence affects black communities far more than any other. How did the March for Our Lives movement work with these communities? What do powerful intersectional movements look like?
Listen by clicking play above, or listen via an app on Apple, PodcastOne or Stitcher – or on most other podcast apps by searching "ChangeMakers." Or use our RSS feed.
EPISODE TRANSCRIPT

MEI-LING HO-SHING
I feel like every African-American household is required to talk about what gun violence means to us in our community.  It's always going to be a conversation for us because we are unproportionately affected by gun violence.  Black men are 13 times more, … more likely to be killed by guns, 13 times more than a white person. you know, 60 percent of of unarmed people that are are killed by police officers, are minorities.  And that's ridiculous,  especially when it comes to police brutality. I've always been… an advocate for, you know, just, you know, just living.
HOST
That was Mei-ling Ho-Shing. She was a junior at Marjory Stoneman Douglas High School when the mass shooting happened.
Gun violence is a different conversation depending on who you are. Whether you are black or white.
MEI-LING
That's how gun violence has always interjected itself into my family's household and my friend Circle and churches that we.  This was it affects us. So that's why we talk about it.

HOST
Today on ChangeMakers we are in Parkland looking at the March for Our Lives movement that grew in response to the mass shooting of 17 people at Marjory Stoneman Douglas High School. In this our third episode,our focus is the question of identity. One of the reasons for the success of the March for Our Lives students was who they were – articulate, white, relatively privileged young people. This created opportunities for their movement, but did it also create tensions with others, like urban black communities who face frequent gun violence without any national attention?  What can we learn about how identity matters in building powerful social change.
Let's go.
HOST
I'm Amanda Tattersall, welcome to Changemakers, the podcast telling stories about people changing the world.
We produce content about social change with the aim of helping us all better understand what works,and what doesn't. Our ChangeMaker story episodes – like this one – are stories of change. We also produce ChangeMaker Chats which interview individuals that make change.
We want to thank Cheryl McDonough and the team from film Parkland Rising for helping us to produce this podcast series. Parkland Rising is a remarkable documentary about these events. We encourage you all to go and see it. Find out more at https://www.parklanddocumentary.com/
ChangeMakers podcast is supported by the Sydney Policy Lab at the University of Sydney. They break down barriers between researchers, policy makers and community campaigners so we can build change together. Check them out at https://sydney.edu.au/sydney-policy-lab/
And you can sign up to our email list at changemakerspodcast.org.
* * *
Gun ownership has become part of the modern American narrative.
The National Rifle Association has worked steadily since the 1960s to use the Second Amendment of America's Constitution to argue that people should be able to own almost any gun they want.  The evolution of gun love is not faceless. In modern America carrying a gun in public is coded as a white privilege. Go back in history and this right is dripping in  colonial legacy, where slave owners allowed poor whites to carry guns to quell uprisings.
As Jonathan Metzi – author of 'Dying of Whiteness' – argues, the right to carry a gun in America is fueled by a politics of whiteness and white resentment that is widespread across modern America.
JONATHAN METZI
http://www.pbs.org/wnet/amanpour-and-company/video/jonathan-metzl-on-dying-of-whiteness/
5:12-5:30
(On the flipside) I spoke with many white Americans and I went to many white pro-gun areas and I really gained an understanding of how they saw guns as part of their political identity, political identity, part of their racial identity.
HOST
Taking the right to carry guns and using it to take extremist positions like there should be no background checks or people have a right to own military weapons is a form of toxic white identity.  But you can't look at identity and gun violence, and not look at race. As Mei-Ling explained, the bullets don't land equally across the country. Black men are 13 times more likely to be killed than white men.  Virtually free access to guns is killing people from a particular group – black people.
And it isn't just about lives lost. It is about how gun violence frames your life if you are a black person. You live with an anticipatory trauma. Every African American parent has to have 'the Talk' with their kids, especially their boys, about gun violence and the police.
MEI-LING
But it's the pain that comes with it is that, you know, my family, my whole family, my kids, my my community has to deal with approaching their young men.  They're their sons, their nephews and their uncles, their fathers or husbands, and say in the morning, like, you know, be careful.
HOST
It is why Mei-ling was very aware of gun violence, well before her school shooting.  In February 2012 in Sanford Florida, 15 year old Trayvon Martin was killed by George Zimmerman, a self-appointed neighborhood community watch captain.
MELING
 I remember I protested in middle school for Trayvon Martin. … And Trayvon Martin was just going to a corner store to get iced tea and Skittles. And so the wannabe cop saw him and was like, you know, this kid looks suspicious and called the police and say, oh, this kid looks suspicious. And the police said, do not act upon it. And he went to him and shot him.  We protested all throughout the trial in middle school when  I was 11 years old. And I you know, we always wore hoodies and Skittles and had iced tea throughout the whole trial, only to find out that he was not guilty. George Zimmerman was not not guilty for the murder of Trayvon Martin. And that broke all of our hearts and our family's heart.

HOST
The acquittal of George Zimmerman sparked a national protest movement that led to the formation of Black Lives Matter.  Over the following years Black Lives Matter grew profoundly through street demonstrations and digital solidarity in response to the deaths of young African American men at the hands of police. Young men  like Michael Brown, Eric Garner and Freddie Gray.  African American high school students like Mei-ling were politically shaped by the rise of Black Lives Matter. Then 14 February 2018 happened.
MEI-LING
https://www.naplesnews.com/videos/news/2018/03/13/mei-ling-ho-shing-17-speaks-day-school-shooting/110961104/
0.35 – 1.07
That's when we heard the first shots followed by a fire alarm. Then we heard rapid fire. Our teacher stood over us. I looked over to the girl next to me and I held out my hand. We heard him outside our door I just started praying. "
HOST
Mei-ling lost very close friends that day. So did another African American student Jammal Lemy.  Both of them described needing time to step back and be with family in the immediate aftermath of the tragedy.  Unlike David Hogg and Emma Gonzalez who were pushing for immediate action, Jammal found himself in a space of reflection.
JAMMAL
You know, whether it was the shooting of Trayvon Martin or Mike Brown or fun, it could still, you know, seeing those shootings and see how it appeared in the news cycle. And then, you know, seeing this, you know, seeing this event, I was like, I guess I you know, I was I was upset in the way, whereas like, you know, the energy towards what happened, you know, in our community, it was a lot different from seeing what the everyday gun violence and police brutality that black and brown people face in this country. So, you know, I was aware to it. Oh, and I noticed that. And I thought it was you know, I thought it was quite extraordinary. But at the same time, there is still this feeling of, you know, I think what makes this different from what, you know, what happens every day and are, you know, on our streets.

HOST
Jammal was not alone.
Mei-Ling decided to go to a CNN Town Hall debate, a little over a week after the shooting, in part to process her increasing levels of unease.
MEI-LING
Emma Gonzalez popped off on the officials and Marco Rubio. It was like a huge thing. And I was there and I was just me just being there because. What the heck did we just go through?

HOST
At the event Mei-Ling saw an African American school board leader.
MEI-LING
And I felt like I need to talk to her because of course, after the 14th and days to come and realize that we're still in the news, I do not understand where the topic about gun violence is going to about like it was ever going to come up.  I was so upset. And I had no idea how to talk about it because I feel like I'll be insensitive to talk about gun violence. I know about black people when 17 people just die at my school. But then again, in my head, I'm like people. My people have been dying for decades, you know. So I need someone to guide me on how to talk about this, whether we're going to be me or not. It had to be you know, I wanted this conversation to be told. I emailed her.

I need some help. Where was this for Trayvon Martin? Where was this for Alton Sterling? Where was this for the Charleston Church Pulse nightclub?

That was the bigger conversation is like this has been happening forever. So now the nation wants to galvanize, the whole world wants to galvanize it. We've been marching. I like my family. My family, my ancestors have been marching for so long.

HOST
Her email struck a chord with the school board member.
MEI-LING
She emailed me the next day.

… we're gonna get this done.
HOST
The first thing Mei-Ling did was to take her concerns to some of the students leading March for Our Lives.
MEI-LING
To be completely blunt? I think it took us when we were until we addressed it, when we spoke to Emma … To say like business, this is not intersectional enough. Like we need to talk about these things. These things were brought up. I'm sure they would even recognize that black students go to Douglas, you know, even mentioned that until, well, they would hug what we posted. I want to speak on behalf of blacks.  Who is the smartest on the list? Like I don't have my own mouth.

HOST
There was real tension.  If you bring a generous eye, you can see how mistakes were made. The most prominent students were trying to do their best, as fast as they could. There was an ocean of pressure and under extraordinary circumstances they were making shortcuts, and sometimes making mistakes.  But like anyone, they only had their existing experience to draw on. With no African American members in the initial inner circle, no one had a deep understanding of how gun violence shaped African American identity.
But Mei-Ling's did, and her confrontation caused a shift.
On the 4th March a group of students from Chicago were invited to come to Florida, and share some of their experiences of gun violence with the Parkland's students. The trip was reported on ABC.
ABC
0.16-0.22
https://abc7chicago.com/chicago-teens-travel-to-parkland-to-meet-with-school-shooting-survivors/3179781/
A school shooting rampage down in Florida has now united Parkland survivors with Chicago students who live with violence on a regular basis."
HOST
They spent the day trying to understand each other.
EMMA GONZALEZ
https://abc7chicago.com/chicago-teens-travel-to-parkland-to-meet-with-school-shooting-survivors/3179781/
1.19-1.26
Even though we face different types of gun violence we all feel the exact same way having experienced it.
HOST
There was a great distance to overcome. As Chicago student Trinity Cole-Reid said.
CHICAGO STUDENT: TRINITY COLE-REID
1.27 – 1.
https://abc7chicago.com/chicago-teens-travel-to-parkland-to-meet-with-school-shooting-survivors/3179781/
I think they could tell that we were dealing with this gun violence issue for a long time, but our voice was not being heard.
HOST
After this event, March for Our Lives went broader still.  On 24 March at the massive demonstration in Washington DC – there were many speakers from urban black and brown communities that face regular gun violence.  The day before the big rally, David Hogg addressed predominantly African American students at a Washington DC school.
DAVID HOGG
https://www.wusa9.com/article/news/local/dc/why-a-parkland-student-marching-wants-you-to-look-at-her-skin/65-531182396
0.03-0.15
Many of these communities are disproportionately affected by gun violence. But they don't get the same share of media attention that we do. We must call it out for what it is and that is racial bias
HOST
March for Our Lives created the possibility of an intersectional movement.
Intersectional, so what does that mean?
Well the idea of intersectionality recognises that different social and political identities – things like race, class, sexuality, disability or gender – can combine to create distinctive forms of discrimination.  Intersectionality is all about how different identities connect or overlap.
Social movements like Black Lives Matter have argued that we need intersectional social movements. Where we have social movements that are led by a mixture people with different identities – people can create connection and understanding across difference in the process of finding their own liberation.
MEI-LING
… I felt like the march for our lives was so powerful because it was so intersectional that there was hope. There was just times where I just under like I was able to agree or I was able to be in sympathy for not only the students, I go to my school that spoke, but like the students from all around the nation who spoke about the lesson of meetings or their own experiences or what their family went through.
I was just like how, you know, this is so great.

HOST
Jammal felt it too.
JAMMAL
There was just so much positive energy and love in the air. We're just there for this one common thing.
HOST
But the biggest question for an intersectional movement is about how people come together.  Big events that look diverse can sometimes disguise more informal power imbalances that exist between people or groups.
MEI-LING
It is one thing to have the seat at the table, but it's another thing to actually eat. And that's saying I say that a lot because it's one thing to say, you know, hey, I had this student next to me from Chicago to speak to you about them and their community. This is my person.
Had them speak a little bit. OK. So back to this, this and this and this. When the fact of the matter is, are they making decisions and how you go at things, are they are they having leadership inside of the organization itself or are they just people that you call on to to sit on panels? Are these people just make sure that you have the intersection of a visual intersectional group?
HOST
The March for Our Lives demonstration projected great hope for interconnection between communities and groups.  The rally had a bold youth identity. This gave it  great energy. As we discussed in episode 24, the intergenerational rage around gun reform was a hugely important narrative that brought people together. A shared identity mattered.  But as intersectionality teaches us, different parts of our life experience, our wealth, what we look like, who we love, our gender, where we come from and how our bodies and brains work, shape us in powerful and often different ways. A young black man from Chicago and a wealthy white woman from Parklands have some things in common, but also plenty that's not. The challenge is how we can learn across our different experiences. Can we make space for each other?
HOST
The March for Our Lives Washington DC rally ended a chapter.
AMANDA TATTERSALL

What was the mood like in the weeks after the march?
JAMMAL
Well, it was weird. This is a weird limbo for a while. From like the march to when we tried to start our tour where I could just feel it in the air or like things were just different.  From the minute the march finished. Like what? What's next? Like, that was just a question now. What's on our minds is just like, what do we do next?

HOST
It took some time for the idea to become clear.
JAMMAL
Yeah, there's a lot of strategy in figuring out like, what can we do, and I kind of birth the idea of having a tour. And I think that it was like.  Thing was Matt and Cameron's idea to have a tour.

HOST
The idea had a historical resonance that worked for Jammal.
JAMMAL
Oh, because they remind me of the. And remind me of, you know, when the young people during the civil rights movement traveled through the Deep South. You know, and. Many young activists lost their lives, and it just seemed it seemed like a great idea because at least it was like a chance for us to bring our story to a lot of places that necessarily didn't know it or weren't open.
HOST
Just like the 1964 Freedom Summer followed Martin Luther King's 1963 March on Washington, the students planned a nationwide "Road to Change" bus tour as their next step following the March for Our Lives rally.  The idea of Freedom Rides has a more recent resonance too. Black Lives Matter staged their own Freedom Rides to Ferguson after the shooting of Michael Brown in August 2014.  March for Our Lives planned to use a tour of the country over summer to register voters in the lead up to the 2018 midterm election.  They also intended to build the local base of the movement – by helping to establish or strengthen chapters around the country.  It was a big tour,
JAMMAL
We went over 60 cities in 60 days.

HOST
Each day was busy.
JAMMAL
For a day with like we wake up, have breakfast, and usually we use that day as a travel day, so we would travel from whatever location to where our next destination was and we'd have a meeting with the what the youth groups in the community. And then we'd have like a roundtable meeting to like build relationships and, you know, think build a coalition and then just talk and have conversations with the young people were wherever we're going because like our whole idea was like we can't go into anyone's community without first addressing those who do the work there every single day.  And then after that, we'd have a town hall later that night. And we did that for 60 days.

HOST
The team already had supporters in most of the places they went.
JAMMAL
So every every location went to. We were in direct conversation with who ever organized a chapter in that city or a march in that city. So most of the organizers who organized the events we would have in different cities were actual organizers from the marches.  Every time we went to a city, we usually would have someone there organize, if not a march or some event.
HOST
Across the tour the bus picked up students, giving the team a geographic spread.  The process itself was about listening and learning.
JAMMAL
As soon as you learn more about certain subjects, you just you just gain information and you gain new perspective and insight. So as we kind of experience more and learn more about what we actually got ourselves into, we realized that we had to kind of readjust our aim for what we wanted to achieve. …we just needed to adjust … our aim to just be as inclusive as possible, because a lot of what we wanted to do before was I think didn't take into account of just different aspects of the individuals from different communities that face different issues.  And, you know, in relation to gun violence.
HOST
By placing themselves in different cities all across the country they were able to see both the differences and the intersections that linked together the challenge of gun violence in America.  Each place had its own story. In Texas you can't separate someone who is suicidal or homicidal from their guns.
JAMMAL
Because then I can think that the state of Texas is like the most gun deaths in a lot of those that are to suicide.
HOST
By the tour's end the students had registered at least 10 000 young voters and met more than 50 youth groups.  It was another extraordinary achievement.  Like much of the work of this group it was fast and furious.  Speed comes with a trade off. In quickly covering the breadth of the country, they necessarily weren't able to go deep. That said, not everyone was on the bus. There was other work happening in other places at the same time.  A different group of students embarked on a tour across Florida. The idea was similar to the national tour, but the smaller distance meant that participants spent more time with the communities they visited.
MEI-LING
I thought it was the best idea ever that they ever had was because … they visited districts and not just the state and left because once you visit districts, you have a more impact in these districts.

HOST
Students also branched off on their own. Since April Mei-ling had built an increasingly strong relationship with a group of students at Thornwood High School in Chicago.  Thornwood High School knew about gun violence.
MEI-LING
We were just a group of students who happened to be around each other. You're talking about the same issue, but in different perspectives.  I was speaking with them. And it was a discussion.  What I said, you know, just to make make people vulnerable and to have a conversation, what is how.  How many of them? I said how many of you guys have experienced gun violence, have lost a family friend to gun violence in every hand in that room raised up. And that broke my heart.

HOST
It was an auditorium. Mei-ling realised that her experience and their experience, while both involving guns, were really different.
MEI-LING
These are these are kids that are losing people on the streets in Chicago all the time.  It's not normal to have a whole classroom, a whole auditorium raise their hand.

HOST
It mattered who you were and where you were. Identity matters.
MEI-LING
 And I am sure they looked at me like I was crazy, like just about to on the brink of crying because I was it was so unbelievable. It was so unbelievable. So that's why I mean, it's unproportionate how this could happen, because I know it prior to February 14th, if I was to ask any if I asked the auditorium or my and my at my school that I wouldn't have gotten the same results.
HOST
For Mei-Ling, if identity mattered, then how you work with people mattered too.
MEI-LING
So when I do talk to crowds of students, I say, you know, I try to open up more of a discussion versus like I'm talking to you, because at the end of the day, the people, the audience that I use as I'm talking to already know what the case of gun violence is. I don't have to sit here in front of you and preach to you …
 I'm tired. I am tired of preaching to people and saying especially students who understand what this is, because from the movement you probably seen like Emma Gonzalez and the David Hogg and you've seen them go out to these places where large majority of black kids and minorities telling them about gun violence when these kids already know and these are the same since I met them before. And they they they were like, yeah. They talk to us about something that we live through every day. But like now what?
So it's about not just preaching, but to start getting your boots dirty is starting to start learning how to protest. Let's see, what can we do? Who are your elected officials? Who what?
HOST
An intersectional movement listens.  The interconnection between our identities turns to power when we work out how to act together. When we make plans together. Where we learn and teach each other.  Where we intersect our strengths to build power with each other.  In these spaces of exchange, the content of the relationship changes too. Mei-ling found that taboo issues sometimes found their way to the table.
MEI-LING
Can we stop normalizing death? You know, can we stop shooting each other? We're going to … talk about the elephant in the room that in these four meetings we're shooting each other. It's not white on black or black on white. It's it's to us. Our own race is shooting each other.  And we're going to talk about it, you know, and we're not going to act like it's not there. You know, so it's it's like it's like really talking about the deep issues of it, not just like. As a you know, as a whole.
HOST
As a whole. Getting to the root cause.  Just like we discussed in our last episode, powerful intersectional politics gets to the root of a problem. It turns to the source.  But this only happens if there is trust. To have intersectionality you have to have relationships. Listening is what creates a transformative political agenda.  In any social movement, raising the issue of identity is confrontational. It goes to the heart of whose experience and whose voice is included and excluded.  For those whose voice is already being heard, it is uncomfortable. Emma Gonzalez and David Hogg's teacher Jeff Foster felt this.
JEFF FOSTER
And that's what that's one of the things that bothers me most about people when they try to criticize our kids, that we're like spoiled kids from a rich area in south Florida is that we purposefully included all these other kids from all these different areas and they've gone out of their way. The March for our lives kids to go to Oakland and go to Detroit and to go to Chicago and to go to New York and to go to all these cities. Good, good and bad. And when bad, being crime wise and say we're here to help you as well.
HOST
But students like Emma and David were not the only ones to feel tension.
MEI-LING
 I got a lot of negative, negative energy from a lot of students. I was just like, you know, you would make this like a race issue because I've always been labeled as an angry black girl that wants to talk about politics and how we are very unfortunate about the deaths have been systematic oppression, blah, blah, blah.  Say that they would say, you know, that they you know, I would make this into a race issue.
HOST
It's tense. But good change makers don't turn away from tension. In the heat is energy.  So let's come at this another way, how do you confront gun violence?  Do you go specific? Do fight for 'reasonable' changes?  If this is the plan, is the winning strategy to push ahead with a politically palatable set of spokespeople who can cut through.  Involve different people as you can, sure, but the feel of the movement, the look of the movement doesn't need to change significantly.  Or, do you say that the gun violence question can only be won if it goes broad. That we can't win reforms that stop school shootings if we don't also deal with the supply of guns that fuel urban gun violence.
MEI-LING
But it is you know, this gun violence in general is an issue.  But if we're going to tackle it and we have the platform that we have, we're bringing everybody on board, not only blacks, we're talking and we're going to talk about, you know, the LGBTQ plus media is ridiculously impacted by gun violence, not only by hate crimes, but suicides. You know, we're going to talk about the hate crimes, about religion that allow Muslims go through because people are labeling them as terrorists. It's it's there's so many layers of domestic abuse between relationships. If we're going to tackle what we need is how to tackle everything.
HOST
At one level, the extent to which we build intersectional power is about how we see the scale of the problem that we confront.  But identity isn't just about political strategy. It is about who has agency and power in the movements that we build.
MEI-LING
https://www.youtube.com/watch?v=SLoCMm0DHPw
2:42 – 3:43
"as you can see David isn't black, black students don't need a spokesperson, gun violence can affect anyone, therefore the movement needs to look like everyone.
HOST
Identity is also, most deeply, a call for recognition. Not for help. It's a call for voice, for self-determination.  Claiming your voice isn't an easy business. Exclusion, especially racist exclusion, embodies pain. The claim making carries that pain when it is expressed inside social movements.  When movements form fast they often struggle to hear these cries for inclusion in amongst the rapid pace of action. This is frustrating for those who have historically been excluded. And, in turn, frustration can be used as a righteous signifier – mistakes can often be interpreted as malicious intent.  And don't get me wrong – mistakes often have malicious intent. But that's not always what is happening.  Intersectional movement building is hard because it's easy for words to hurt.  And it's often easier to be defensive than to listen.  And it is easier for any of us to dismiss others, and be right rather than to see things another way or to change.
So too often we attack, or use polarising language rather than to turn towards. The hopefulness of March for Our Lives is that despite mistakes, there has been a readiness to be open to change. A profound lack of defensiveness.  Part of that came from the expansion of the movement itself – leaders like Mei-Ling who found a voice and space for herself and her activism.  Identity does not need to be a zero-sum battle. We don't have a single identity, and our movements don't either. Mei-Ling grew the pie – she made the movement bigger through investing in new relationships and by listening.
March for Our Lives worked tirelessly up to the midterm elections in 2018. But it was a hard time to push for change.
JEFF FOSTER
You're always you know, until we see meaningful national legislation passed, it's hard to get completely excited about everything. I mean, are were we, you know, encouraged again by that by the youth turnout last election? Sure we were.
HOST
Turn out was up 188% compared to 2014.
But at the same time they lost the gubernatorial races that they were focused on – most dishearteningly – the race in Florida
JEFF FOSTER
But to see the kids and how they reacted and to be there, like there were tears and we were hugging and like, you know, guys, it's OK. You did. You did awesome. You know, you're not going to win every election.

HOST
March for Our Lives has generated hope that gun violence can change. But it's place is so much greater than this in the broad scheme of American history. David Hogg's mum Rebecca was recently reminded of this.
REBECCA
The all the parents were together for a New Year's Eve party. And, you know, we're watching the countdown to the new decade. And they're talking about big stories of the decade and all of a sudden there they show David and Emma.  And we were like, holy shit. You know, we forget. That they were one of the top stories of the decade.

HOST
March for Our Lives is a battle for the future staged by the next generation. The contest is around gun violence, but the idea of intergenerational emancipation is a global one.  In Hong Kong students are fighting to secure a democratic future. Climate strikers across the world are fighting for a liveable planet.  A universal thread across these groups is how we manage the tensions that lie across our differences and our different kinds of power can intersect in how we work.
Identity matters.
And recognition matters too. It matters how we can hear and hold each other across our differences as we seek out the change we need.
JAMMAL
 We've sat across. Hard core conservative Republicans who say no with neo-Nazis, etc., etc., but we've seen that at the end of the day we're all humans and we all want to just be heard and we want to be acknowledged and we all hold opinions and values and the minute we start to realize that's where we start to make strides towards.  To a better future and about a better world.
HOST
Changemakers is hosted by me, Amanda Tattersall. Remember to subscribe to this podcast to catch all our episodes. This is series 4 so there is plenty to be inspired by in our back catalogue.
Changemakers is produced by Amanda Tattersall and Ben Keating. This Series is written by Kate Wild and Amanda Tattersall, with script editing from Charles Firth, Our audio producer is Jules Wucherer.
Our sponsoring organisation is the Sydney Policy Lab at the University of Sydney. They break down barriers between researchers, policy makers and community campaigners so we can build change together. Check them out at https://sydney.edu.au/sydney-policy-lab/. We are also supported by Amnesty International, Settlement Services International and the Organising Cities project funded by the Halloran Trust based at the University of Sydney. Like us on Facebook at changemakers podcast and check out changemakerspodcast.org for transcripts and updates on all our stories.
And don't forget to register for one of our MasterClasses if you want to take a deeper dive into the art of ChangeMaking.
---
Join our weekly email list to hear our latest musings, podcasts and training. Click on this button to subscribe: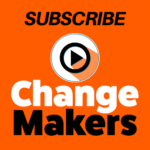 _

Comments
comments