#24 Power of March for Our Lives – 1 – Who Speaks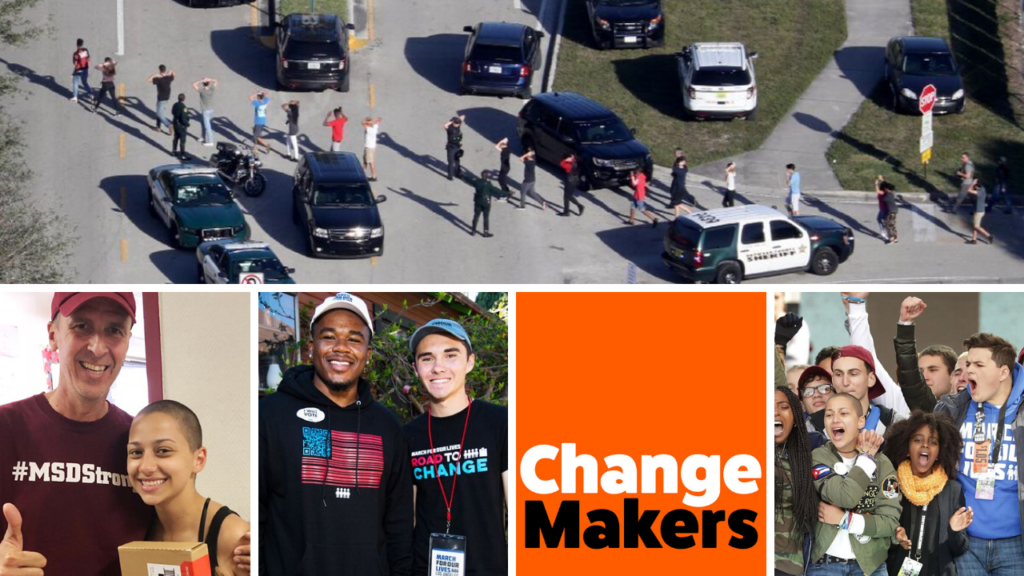 On 14 February 2018, 17 people were killed in a mass shooting at Marjory Stoneman Douglas High School in Parkland Florida. That same day, student survivors began to build a movement against senseless gun violence and lax gun laws. This is the first episode in a multi-part series that explores how they organised for change. This episode looks at how important their voices were in breaking through the sense of despair in America's gun debate.
Listen by clicking play above, or listen via an app on Apple, PodcastOne or Stitcher – or on most other podcast apps by searching "ChangeMakers." Or use our RSS feed.
EPISODE TRANSCRIPT
AMANDA TATTERSALL:  How did you find out about the shooting? 
REBECCA HOGG:  I got a text when I was in my classroom teaching. 
HOST:  The text was from her daughter Lauren.
REBECCA: active shooter, I love you, mom. 
HOST: Rebecca Hogg turned to a student in her class room.
REBECCA: I've got to go, I have a family emergency. And I grabbed my purse and ran to my principal's office. 
HOST: The principal told her that a shooting had happened. But she couldn't leave the school. The roads were blocked by police because the hospital that was receiving victims was close by.
Rebecca called her husband, who worked for the FBI.
REBECCA: I called Kevin, who was at Taco Bell, and I said, there's been a shooting. 
I said you need to go home and get your … bullet bulletproof vest that says FBI. And your gun and go get our kids. And he did. He couldn't find Lauren, but he got David. 
HOST: Stuck at work, Rebecca, her principal and a few colleges crowded around a TV to follow what was happening. 
A co-worker with kids at the school was watching a feed inside the school – broadcast on Facebook live.
REBECCA : So I'm sitting there watching it in real time. 
We were watching as Scott Beagle was killed. Like they were filming and they said, oh, my God. Their teacher just fell on the floor. He's been shot. 
HOST: No one knew what to do. 
REBECCA:  And I was in shock and my principal said, here, eat something and I eat about a pound and a half of cheese, he had like a bunch of cheese cut up with crackers and I just kept eating it and eating it. 
HOST: Finally by about five or so, they were able to leave the school. But with all the press it took forever to drive home.
But by seven o'clock the family were thankfully together at home. But they weren't together for long. 
Their eldest son David Hogg didn't want to sit. He wanted to act.
REBECCA: He was just so outraged when it first happened David said, I want to go back to the school. I'm going to talk to the press. 
HOST: Rebecca had a sense that this would change their lives. It worried her greatly.
REBECCA:  We said, absolutely not. You cannot drive back. 
He grabbed his bike and he goes, I'm going. And he had his camera on his shoulder because remember, he was in TV production. So he was like, I'm going to get the story. And he jumped on his bike and rode back to school. And he was there until 2:00 a.m.
HOST: Rebecca remembers that moment still today.
REBECCA:  It's almost like David went to school that day and the person who came home that night after the shooting was a different person. 
HOST:  That night, 14th February 2018 their son took on a different role.
REBECCA:  We were watching him on the news. You know, we would turn on CNN. And he was there. 
HOST: In the days that followed David Hogg and a growing number of students at Marjory Stoneman Douglas High School based in Parklands began something new. As survivors of school gun violence they chose to immediately stand up and call for political action on gun violence in America. 
Their age, their articulate turn of phrase, their skillful organising, their background and the horror of what they had experienced come together to build one of the more significant social movements in modern American history. 
It's name – March for Our Lives.
AMANDA: Today, I'm in Portland, Florida. This series of Change Makers is a little different from those that come before. We're bringing you several episodes, each of which cover different aspects of the social movements that dramatically grew in response to the mass shooting at Marjory Stoneman Douglas High School on the 14th of February 2018. Social movements are always hard and complex, but this one couldn't have been built in more difficult circumstances. But in this movement, like every movement, there are universal lessons about the possibilities and challenges for how we can make change. Each episode in the series focuses on a different question around social movement success. Sharing particular stories and lessons from the leaders of the gun violence movement. This episode, our first in the series, is about the role of voice. We investigate how who speaks is a critical driver of movement power. Let's go. 
HOST: I'm Amanda Tattersall, welcome to Changemakers, the podcast telling stories about people changing the world. 
We produce content about social change with the aim of helping us all better understand what works,and what doesn't. Our ChangeMaker story episodes – like this one – are stories of change. We also produce ChangeMaker Chats which interview individuals that make change.
We want to thank Cheryl McDonough and the team from film Parklands Rising for helping us to produce this podcast series. Parklands Rising is a remarkable documentary about these events. We encourage you all to go and see it. Find out more at https://www.parklanddocumentary.com/
ChangeMakers podcast is supported by the Sydney Policy Lab at the University of Sydney. They break down barriers between researchers, policy makers and community campaigners so we can build change together. Check them out at https://sydney.edu.au/sydney-policy-lab/
And you can sign up to our email list at changemakerspodcast.org.
*  *  *
HOST: The thing about a school shooting is that it can happen anywhere, to any child.
Actually that's not true. It happens far more frequently in America. Only in the US can people so easily, and legally obtain the military style weapons needed for mass shootings.
Since the Columbine school shooting in 1999, mass school shootings have become a 'thing' in America. Sociologist David Philips describes them as a contagion, where media interest combined with copy-cat competitive behaviour to raise the profile and frequency of this form of mass shooting above all others. In 2019 alone there were 549 incidents of gunfire at schools leading to over 400 deaths. There were 13 mass school shootings. Just in 2019.
Of course, the problem of gun death is bigger than the problem of mass school shootings.
According to the Giffords law centre 36 000 Americans every year are killed by guns. But not everyone is threatened equally. Black Americans are 10 times more likely than White Americans to be murdered with a gun. Of all the women murdered by a gun, half are killed as an act of domestic violence. More than half the gun deaths are suicides.
But while most middle class white Americans think that guns are not an issue for them, school shootings don't discriminate. They happen to rich kids as well as poor kids. White kids as well as black kids. The randomness of the school shooting and the fear it could happen to your child creates a connection between gun violence and the mainstream American middle class.
But it's not just the existence of guns that is the problem. It is the organised support that guns have amongst the voting public. Jeff Foster is a teacher at Marjory Stoneman Douglas High School (or MSD for short) and for years he has run a regular class for his students that sounded something like this.
JEFF: This is called the NRA. You've probably heard of them then the National Rifle Association. We had a bunch of elements, schools, kids murdered in this country a few years ago. And every politician from Barack Obama to John Boehner to turn I name all the leadership in the government went on television, said I, we're gonna change gun laws. And the NRA just sat back and just watched it all happen. And then no laws were ever introduced in this country. You know why? Because the second that they thought about reducing US laws, the NRA went into full tilt mode and said, if you're going to do that, we're gonna feature in primaries, we're gonna beat you here and we're gonna beat you there. 
We're gonna put money and resources into, you know, like what? Sorry, we whoops we don't really care about it.
HOST:  So following Columbine, mass school shootings kept happening. Before Parklands, there was Sandy Hook Elementary School – 26 people were shot, including 20 children between 6 and 7 years old. At the time people remarked, "if people don't act on guns now they never will." People tried, including a large group of Mom's whose story we told in Episode 3 of ChangeMakers. But in the end there were thoughts and prayers, but no legislative change.
Parklands Florida is the kind of place that looked safe.
I mean, it didn't have everything going for it. As Emma Gonzalez says, it has some pretty lax gun laws. 
EMMA GONZALEZ:  In Florida, to buy a gun you do not need a permit, you do not need a gun license, and once you buy it you do not need to register it. You do not need a permit to carry a concealed rifle or shotgun. You can buy as many guns as you want at one time.
https://edition.cnn.com/2018/02/17/us/florida-student-emma-gonzalez-speech/index.html
HOST:  But of all the places in Florida –  the suburb of Parklands feels safer than most. Half an hour north of Miami, closer to the everglades than to the beach, Parklands has plenty of features that would set most middle class parents minds at ease.
Marjory Stoneman Douglas High student Jamel Lemmy explains.
JAMEL:  For multiple, multiple, multiple years, it was one of the safest cities in the country. And a lot of people move from up north to places like Parkland, you know, and like the early 2000 and 90s because. Of how safe it was. 
HOST:  Parklands felt safe because it was a gated community. Every street block was lined with a tall wall or hedge. Halfway up the block you could glimpse the back of houses, but you could only approach homes via 24 hour security checkpoints. 
It was an upper middle class suburban community, where 80 percent of the families were white. 
Parkland's was a place where people went to secure themselves away from the dangers of modern life. But  …. gates and security guards can only provide so much.
JAMEL:  You know, it can happen to anyone and it can happen anywhere don't you know, it doesn't necessarily matter what space you create, you know, and how safe the space you create is, you know, sometimes it's just not in your hands. 
HOST: On 14 February 2018 at 2.21pm, shortly before the end of the day's classes, a former MSD High School student, armed with an AR-15 – a semi-automatic military style weapon – entered the High School and began shooting. 
HOST:  In just over 6 minutes he killed 17 people and injured another 17. It was the 4th largest school shooting in US history.
But the power of this moment did not come from the scale of the brutality. It came from the actions of those who survived it.
David Hogg talked to the media the night of the shooting. But he wasn't alone in wanting to do something. Jeff Foster taught government at Marjory Stoneman Douglas High School. 
JEFF:  The original crew was Cameron and David and Emma and Delaney Tarr and Ryan Deitch and Sophie Whitney … they basically just sat in Cameron's house on the floor … 
HOST:  For the first time ever, survivors of a school shooting decided to change their role in this tragedy.
In the traditional script, the students were meant to be passive victims, allowing the media to focus on the accused.
But not this time. In Parkland's these older students were survivors. They could speak for themselves. And they weren't just survivors, as Rebecca Hogg describes.
REBECCA:  … they so quickly organized. I mean, that night, Cameron Kasky started organizing. 
HOST:  So, who was Cameron organising? 
REBECCA HOGG: So there were three main groups of people who kind of formed together afterwards at Cameron Kasky's House. And one of them was the TV production kids, which David was in. But some of the other ones were also the debate kids, which David was also in. And then the other ones were the drama kids. So the really interesting thing to me from sort of a sociological standpoint is that all these kids in high school, all those groups historically are outcasts. You know, they don't they're not the cool kids. They don't fit in. They don't belong. You know what I mean? They're not. Which is great. They didn't have anything to lose. 
HOST:  But this wasn't any old group of school debaters. Their identity also was a factor.
REBECCA:  I think it's the perfect storm because it is entitled White Kids. Right. Well Spoken. People listened. …they were in drama and debate and TV production. So they had been trained how to think and how to speak and how to argue. 
HOST: Unsurprisingly these privileged students were at a great school with remarkable teachers. Emma Gonzelez said she drew great inspiration from her teacher Jeff Foster. A detail she announced on CNN just after the shooting.
EMMA GONVALEZ:  
https://edition.cnn.com/videos/politics/2018/02/22/emma-gonzalez-dana-loesch-full-parkland-town-hall.cnn
0.23 – 0.34
"First of all I want to thank Mr Foster for teaching us everything we learned. I couldn't have written that speech without you .."
JEFF FOSTER:  I've known them all, you know, almost almost all of them, you know, fairly well before those events, because in my class, we have a lot of Socratic discussion.
Really the kids that ended up, you know, ascending to these heights of being the leaders of this movement were the kids that were very vocal in class before that, you know, and it wasn't like a wallflower became Gonzalez. It wasn't like David Hogg never spoke in class. … These kids were all, you know, active, I guess, at a local level, at a school level. 
HOST:  Privileged skilled communicators. But I had another question – where did their fight come from? 
It's one thing to be a school debater, even at a privileged school. It's another thing entirely to take on power – to prosecute an unrelenting campaign that takes on the NRA and to have the guts to not give up. 
JEFF:  And they've they've had different things in their lives. But again, they're all. None of them are the most popular kid in the school). 
HOST:  When it comes to David, his mum says it was a long time coming.
REBECCA:  He was always the child I was the most concerned about because I knew from a very early age that he most likely was dyslexic as I am because I'm a teacher. So I know the signs to look for, nothing came easy to him in elementary school. So he had to work extremely hard to meet the same goals that the other kids made. 
HOST:  David was different. His different learning style and his battle to thrive while different – perhaps gave him the stomach for something more. 
But there was something else too. David had been taught to fight by his mum.
REBECCA:   I am a person who will get out and protest for what I believe in. So when they were really small, I would take them to protests for my pay So when he was when they were both really little, we went out and they carried signs and we walked and picketed. But I also would volunteer for politicians that I believed in. I would go and make phone calls. And he just knew things like that were important to me. … I've had fundraisers at my house. 
AMANDA:  How important do you reckon all that experience was when he was thrust into a crisis? 
REBECCA:  Extremely important because I think he realized if you speak up, you can make a difference. 
HOST: Through a wiley mixture of privilege and passion, skill and guts – a group of student leaders emerged.
JEFF:  It's almost like they are straight out of central casting. 
Was this this tall, skinny, gangly kid with this with his good hair? David Hogg. And Emma's got the shaved head and Delany, this librarian, blonde girl who's just so brilliant and I mean, all of them. 
HOST:  On 15th February at the school the community held a candlelight vigil. But already by that point, a variety of students had decided that they wanted to do something.
Earlier that day Jaclyn Corin, junior class President had begun posting on instagram calling on people to move for stricter gun control. 
Cameron Kasky was playing around with an improvised slogan that he was wanting to test with others – #NeverAgain.
That night Cameron invited a group of theatre students and debaters around to his place, including David Hogg and Emma Gonzalez. 
They lay on the rugs and couches that sprawled across his parent's living room. Computers open, phones out. Everyone was busy. Some did media interviews, others wrote material for their new website or for social media posts. Chat groups were formed so decisions could be made quickly.
They might have looked like novices, but they were digital natives. It helped them produce savvy social media off the bat. 
Of course their digital voices carried because of who was speaking. But they had a knack for guessing the tricks of the social media trade that NGO's typically pay thousands of dollars for. For instance, Jeff Foster was part of their initial amplifying campaign, on the Friday morning less than two days after the shooting.
JEFF:  And I remember them reaching out to me and just saying, you know, we really could use your help with this.  And I remember them sending me something through Twitter and just saying at this time, we're gonna tweet out, never again can you do that and spread that. 
AMANDA:  How … powerful and important you reckon social media was to the success of #NeverAgain? 
REBECCA: I think it was absolutely the key element. Was absolutely. 
AMANDA: Tell me why? 
REBECCA:  Because if you can get your message out immediately. Throughout the world. And you don't have to wait for a member of the press to come like immediately. If David tweets something, there's like a million people who see it. 
HOST: Jeff agrees
JEFF:  Now, is that the difference between Columbine, the difference between, I mean, Sandy Hook of their babies? It said that we have this ability to to organize people so much easier with Twitter and with Facebook and with Instagram and the 24 hour news cycle and a 24 hour news cycle was just sort of beginning briefly in Columbine. You know, I mean, I was convinced because I was teaching government when Sandy Hook happened, convinced beyond a shadow of a doubt that laws were gonna change weeks, months after Sandy Hook. And I was incredulous that nothing happened. 
HOST:  Using social media they became well known quickly. Over the next three days, Never Again gained over 35 000 followers on Facebook. Emma Gonzalez joined twitter and within 10 days had one million followers.But social media has it's challenges too. Rebecca Hogg recalls a moment that her daughter Lauren went through.
REBECCA: Lauren came in one morning 
And she says, Mom, I think I really messed up. And I was like, what do you do? And she goes, I tweeted something. And now Donald Trump junior is attacking me. 
And I was like, what did you tweet? 
And she said, because, you know, our first lady's thing is and tight bullying on social media. 
And Donald Trump junior had said something or read tweeted something that someone had said that was awful about David. And so Lauren tweeted, … Hey, first lady, why did you talk to your stepson about being a bully? Because he just bullied my family. And her social media blew up and I said, oh, I don't think you did anything wrong, Lauren. I think as as a family and as people. If you poke the bear, we will come out. We will come. We will stand up for ourselves. We aren't people who just lay down and take it. 
HOST:  Using the resources and the support they had, the students worked things out as they went along. 
On the Saturday, three days after the shooting, a rally was held at Broward County Federal Courthouse.
Several students spoke at the event. One was Emma Gonzalez. Right at the beginning, in a moment that most of the TV coverage missed, she explained how she assembled her thoughts.
EMMA GONZALEZ: https://edition.cnn.com/2018/02/17/us/florida-student-emma-gonzalez-speech/index.html
0.03 – 007 (approx)
"I know this looks like a lot, but these are my AP gov notes."
HOST:  She had written her speech on the back of her AP Government notes, a class she took with Jeff Foster. For many years Mr Foster – as the students called him – taught hundreds of students about special interest groups, with an emphasis on the NRA. Indeed he was teaching a class that featured the NRA when the shooting occurred on the 14th February.
Emma used that knowledge to assemble her own speech that day.
EMMA GONZALEZ
https://www.youtube.com/watch?v=Zoby1ODY14w
11:40 – 12:56
The people in the government who were voted into power are lying to us. And us kids seem to be the only ones who notice and our parents to call BS.Companies trying to make caricatures of the teenagers these days, saying that all we are self-involved and trend-obsessed and they hush us into submission when our message doesn't reach the ears of the nation, we are prepared to call BS. Politicians who sit in their gilded House and Senate seats funded by the NRA telling us nothing could have been done to prevent this, we call BS. They say tougher guns laws do not decrease gun violence. We call BS. They say a good guy with a gun stops a bad guy with a gun. We call BS. They say guns are just tools like knives and are as dangerous as cars. We call BS. They say no laws could have prevented the hundreds of senseless tragedies that have occurred. We call BS. That us kids don't know what we're talking about, that we're too young to understand how the government works. We call BS.
HOST:  The 'we call BS speech" went viral. It is regarded as one of the most powerful speeches ever delivered on gun violence. Or, indeed, on any topic in modern American politics.
But what is less known, is that Emma's chance to speak came by chance. As Mr Foster explains.
JEFF:  Emma, told me after the fact that, like, it was sort of, you know, just a random like, hey, you want to come and speak just like, sure, I'll speak kind of asking around like, hey, you know, you seem like you're articulate. You got friends that sound like you. Yeah. 
AMANDA:  And because she was the kind of person who would put a hand, correct? 
JEFF:  Yes. She became a leader. Yeah. 
So was so again. It was it was. It was I know David gave a speech and I am I gave a speech and a Ryan gave a speech. And Delaney gave a speech to the NRA a couple of days. Those are the four big ones that sort of mushroomed into the end of the crew. 
HOST:  Emma and the others stepped forward because they were organised. 
The moment itself created a sense of duty. But that call was answered by a particular group of students. Those leading the way were the students who had joined the group at Cameron's house. Between those students there was trust, people were helping each other, students had each other's back. It was from that group – rather than the broader student population – that a smaller group of students became national leaders.
HOST:  By the Sunday, the movement – all of 5 days old – had pivoted. It had achieved global attention, and was now moving to make a political intervention.
Long term – well long term relative to the work done so far – that is – long term in just under 6 weeks, the plan was to hold a March on Washington. They had a name – March for Our Lives, and some key demands around tighter background checks, limits and delays on gun sales, raising the age for gun ownership – all which spoke to the specific circumstance of the Parkland's shooting.
There was a plea to take a little time here. There was a need for families to grieve. For funerals to occur.
At the same time, for those who wanted to do more – students – and some parents who had lost children – zeroed in on political decision makers. The first target was the Florida State House in Tallahassee less than a week after Emma's speech. Their plan was clear.
JEFF:  We're going to planning on in Tallahassee with the sessions about that. And that's our … state governments. And we want to try to get them to pass a law in these next couple days. And we're gonna bring numbers up there. And we need some adults.
HOST:  While the students and adults were clear that this political movement was a student campaign – students became clear that they would need some help. And who could be more helpful on a political lobbying trip than their government teacher Mr Foster?
JEFF:  I said I need to be on this trip. I mean, this is you know, this is what I teach. This is what I know. I need to escort these kids up to Tallahassee to see if we can, you know, make immediate change in our state government. 
HOST:  It was a road trip with a political twist.
JEFF:  I was in my wife's minivan. It's Army Navy I took seven kids up in my car. And on the way up, it was incredible. Like they had their computers in there or their wife. I was working. They had their earpieces in. They were doing interviews around the world. They were talking to legislators. They were in between. We were singing songs from Hamilton and Ed Sheeran. But I mean, I mean, they were literally, it was like a little moving office on the way up. 
HOST:  In all, over 100 students had made the trip. Jaclyn Corin had done much of the planning. There was a demonstration and a bunch of lobby meetings planned.
In this moment Jeff knew he needed to mark out the space between him, as an adult supporter and the students. The students had already begun to differentiate their voice from the voice of adults and politicians. David Hogg said this to CNN the day after the shooting.
DAVID HOGG:
https://edition.cnn.com/videos/us/2018/02/15/student-survivor-need-action-or-students-die-sot-newday.cnn
0.36 – 045
"We're children, you are the adults. You need to take some action and play a role. Overcome your politics and get something done.
HOST:  Jeff could see that the authority of the students' voices came from their ability to distinguish themselves from the adults who had failed them.
JEFF:   And I didn't even go into the building with them. I stayed. I escorted them inside. They went inside. They had all the meetings. And I just stayed outside 
I came back to meet them when they were done, because, you know, it's about them. It wasn't about any of us adults. 
HOST:  The Tallahesse intervention was a brutal schooling in real-politik. The students had hoped to pressure the state to pass a motion to ban assault weapons in the wake of the shooting.
But it was harder than they planned, as they told CBS at the time.
CBS
https://www.cbsnews.com/news/march-for-our-lives-39-days-how-parkland-students-turned-grief-into-action/
14:17 – 14:28
We have been to five rooms so far, but they just send us room to room … What we need is to talk about it to law makers and they aren't even showing up to our meetings.
14:35 – 14:39
It feels like a lot like we are being dismissed because we are teenagers
HOST:  David Hogg reflected on the experience. 
DAVID HOGG
https://www.youtube.com/watch?v=jcsKMie6M94
1.45 – 1.54
We met with some of the legislators in Tallahassee and we felt like we didn't really get far enough because they wouldn't even discuss assault weapons there.
HOST:  This was their first lobbying experience. 
At one level, this was an extraordinary achievement – they got over 100 students to the capital 6 days after a school shooting.
Yet it was also a lesson about power. A new movement – however passionate – would not rival the influence of the NRA unless it could show that it had staying power, and it could demonstrate it could shift votes.
HOST:  A new strategy was needed.
March for Our Lives resolved to get bigger. Their focus turned toward organising the March for Our Lives demonstration on 24 March.
But in the meantime – this increasingly diffuse movement called on people to act around the country.
There were protests – including a die-in at the White House, and then on14 March, a month after the shooting, there was a national school walkout. At 10am students and parents walked out of school for 17 minutes – in recognition of the 17 students who died. The action reflected the spread of the movement. 3000 schools and 1 million students participated.
Parkland students called for people to boycott any company that had ties to the NRA.
But in Parkland the focus was on 24 March. Marching on Washington is an iconic act in the American social movement repertoire, made most famous by Martin Luther King's I have a dream speech in 1963.
Calling this March was a bold move. Up until then – most gun violence rallies had only hundreds of people attend. 
But as ambitious as ever, the students had given themselves just over 5 weeks to make it happen.
HOST:  Organising a march is a big deal under normal conditions. Logistics, speakers, media, turnout. But this was nothing short of extraordinary.
No one had done anything like this before.
As Jeff Foster remembers, he and a couple of students found themselves in a chat about this.
JEFF:  We're talking to to Kate and Steve and Steven Spielberg as wife. And she said, ask us, you know, to the kids. Have you guys ever done anything like this before, like the march? The kid was like, yeah. I organized a chorus trip once and they just started laughing literally. That's all we're talking about. Like they had never done anything like, well, this is a little bigger than the chorus. Typical, I guess, what we think. 
HOST:  But, it wasn't the end of the world. Chorus trips could be scaled up with enormous amounts of money. 
JEFF:  When you had Clooney and Oprah and all these people say, hey, we'll give you five hundred thousand dollars. It was happening quicker than we could. You know, like literally we were driving up like, oh, pretty scary. 500000, right. You know, it's like, thanks, Oprah. You know, it's like but. But I mean, when you see that sort of stuff happening, you realize that this is bigger than you believe it to be. 
HOST:  Importantly, less well healed money followed too. A Go Fund Me campaign clocked over 4 million.
But it wasn't just money. This was a moment where Hollywood stepped in to make change.
JEFF:  I've been pretty well versed … that it was a Clooney show from the start. Like Clooney did most of this. 
HOST:  An actual TV producer helped produce the event.
JEFF:  The executive producer of Dancing with the Stars, … she's a big Hollywood producer and that's who I my liaison was for all this. 
And she was actually the person that was, you know, in charge of the whole events like producing. 
I don't want to minimize anything the kids did. I mean, they they've … always been the architect of this whole thing. But the power of Hollywood was definitely know that the backing of Hollywood was there. And in the people who know how to run big events were on board. 
HOST:  The media came on board to support the March too. 
ELLEN DEGENERES:
https://www.youtube.com/watch?v=Ob48twC1yf8
0.00 – 0.08
OK, so this march on Washington is happening – March 24. –March 24. Tell everyone what is happening exactly. We're going to march on Washington. OK.
HOST:  That was Ellen Degeneres, and there were many more like her. Deena Katz who helped organise the Women's March volunteered to map out how to actually hold the DC march. The Brady Campaign to Prevent Gun Violence and Bloomberg's Everytown for Gun Safety group reached out to engage the existing movement against gun violence.
Back in Parkland, David Hogg and others began organising. 
DAVID HOGG:  
https://www.cbsnews.com/news/march-for-our-lives-39-days-how-parkland-students-turned-grief-into-action/
30.23 – 26
We are moving into an office space. This is probably not going to be our last. We will need a bigger one than this.
HOST:  Almost everyone using the office was under 18s. These students gave the movement its power. But as Rebecca Hogg became aware, there was also a growing divide between students and adults, including with their would-be allies.
REBECCA:  They don't really trust people, including their own parents, because we're still the adults.
HOST:  Time Magazine wrote at the time that when one of the March for Our Lives's parents asked a group of students what they could do to help, the students shouted back "order pizza."
Students were fueled with a righteous indignation that they could make change, not trusting those who had failed before. They led the press, social media and planning work in Parklands. There was some professional support, but the students were in charge – as without them it was nothing.
A website was set up where people could register local solidarity rallies for people who couldn't make it to Washington. It was where allied student groups could download publicity material and commit to attending the central Washington March.
Across the student community, people brought their whole selves to organising the March. Jamel Lemmy was a highly creative MSD student who started designing t-shirts for the rally.
JAMEL:  I was working with an organization called The Broom and Demand Action. And they reached out to me and they saw I got this. I got a design. And they're like, hey, can you know we're gonna be at the march. Can you design a shirt design for us? 
HOST:  It was his creative skills that drew Jamel into the movement.
JAMEL:  The person was going to the march and he said, you know what? If your compensation was. 
Me. Flying you out to D.C. and this is what Marsh sounds like. 
You know what? You know, everything kind of fell together and I'm on my way. It's like my first. This was my first time flying. On a plane in. Almost eight years. so I make, you know, make it out to the march, and one of the if not the crazy is one of the craziest days of my life. 
HOST:  Saturday March 24. It was big.
JEFF:   To see just the enormity of the crowd, just slowly, you know, just get larger. I mean, it was incredible.
CAMERON KASKY https://www.washingtonpost.com/news/local/wp/2018/03/24/the-6-most-memorable-speeches-at-the-march-for-our-lives-in-d-c/
3:30 – 3.38
Today we take to the streets here and in over 800 marches around the globe to demand common sense gun laws.
HOST:  It was the largest youth demonstration in America's history. Organisers estimated that 800 000 people were in Washington alone. And it wasn't just the number that made it big.
CAMERON KASKY:  
https://www.washingtonpost.com/news/local/wp/2018/03/24/the-6-most-memorable-speeches-at-the-march-for-our-lives-in-d-c/
0.17 – 0.32
"Welcome to the Revolution. It is a peaceful one because it is of, by and for the children of this country."
HOST:  Many Parklands students spoke – but the event spread beyond and included people affected by gun violence from across the country. Like Edna Chavez from LA
EDNA CHAVEZ:  
https://www.washingtonpost.com/news/local/wp/2018/03/24/the-6-most-memorable-speeches-at-the-march-for-our-lives-in-d-c/
0.00.10
I have lived in LA my entire life and I have lost many loved ones to gun violence. This is normal. Normal to the point that I learnt how to duck from gun violence before I learnt how to read.
HOST:  But equally, behind the stage – it was also … bizarre.
JEFF:  We're just celebrity thrown by all these people that we never get a chance to talk to us. We were just kind of going from table to table saying like, hey, Cher, how you doing? It seems to ever got you doing George Clooney. How you doing? 
Hi, Jimmy Fallon. Kim Kardashian was backstage. So her camera crew was backstage following her. And that's been on the show since birth. She was honored to meet him and meet David to meet the. You know, so it's like it was a weird day. 
HOST:  At the event the students were leaders. So popular at the time – they were celebrities.
But at the same time – they were also students. Just kids.
JEFF:   And I had a really great moment. … where I saw Delaney and I saw Ryan and I saw Emma like leading a group of kids that were to go on the stage from our school. And they saw me … And we all took this great picture, just just the four of us, you know, before it was going and kind of wish them luck and hug them and everything else. 
HOST: There were some extraordinary speeches. At the podium, after pausing for a long long silence that held the crowd in uncertainty, confusion and expectation, Emma Gonzalez's phone alarm beeped.
https://www.youtube.com/watch?v=u46HzTGVQhg
6:32 – 7:03
EMMA GONZALEZ: Since the time that I came out here it has been six minutes and 20 seconds the shooter has ceased shooting and will soon abandon his rifle blend in with the students as they escape and walk free for an hour before arrest. Fight for your lives before it's someone else's job.
HOST:  This was a call from students to students in a way that only a survivor of gun violence could. Who speaks matters. It was the central lever that lifted this movement to national prominence.
And you know, I wish I could say that this massive mobilisation was all that was needed. That a massive social movement in action – an enormous protest – could change things on its own.
But you know, we know, that up against the toughest of adversaries – President Trump – an NRA funded congress and senate, a so-called culture war where guns are part of how 'us and them' are divided – it takes more. While a rally is powerful for galvanising the base, for releasing anger  – it's rarely enough.
The students were savvy. They knew this. David Hogg said this in his speech on the 24th March.
DAVID HOGG:
https://www.nbcnews.com/video/march-for-our-lives-stoneman-douglas-student-david-hogg-s-speech-1194238019932
0.31 – 0.49
First time voters show up 18% of the time for midterm elections. Not anymore … who here is going to vote in the 2018 election.  1.29 – 1.34
We are going to make this a voting issue. We are going to take this to every state and every city. 
HOST:  In this way the students were savvier than many of the people who march on Washington. Too often rallies are only mobilisations – framed around specific issues, that aim to get lots of people to attend but don't have a plan for the next day.
The students did have a plan. Using the power of their voice – they had aimed to organise fellow students across the country.
What's an organising strategy? It's the opposite of a big protest. Organising is locally rooted, based in relationships. Long term. Focused on building sustained power. Pressing decision makers through negotiation.
The students had an opportunity for building a deeper, longer term next step beyond the Washington March. There were 800 groups around the country that took solidarity action on 24 March. The question was could these groups be engaged in a national campaign aimed at registering young people to vote and moving votes in the lead up to the midterm elections.
For traditional community organisers listening to this – I'm sure some of you are a little squeamish right now. The March for Our Lives organising plan was not a broad based organising plan. It's maybe a stretch to even call it an organising plan. Organising usually takes years to cultivate, and is built through a powerful listening process of understanding people and cultivating leadership across the diversity of a town or city.
These students weren't doing broad based organising and they never said they were trying to. In their words the next step of their plan (which we will cover in our episode on identity) was to replicate the energy of the Freedom Rides of the 1960s in the digital age. 
It wasn't new. Their approach resembled the work of the US group Indivisible which we covered in a previous story – Episode 13. It's called a distributed network or directed network where a central campaign – often focused on an issue – seek to sustain a long term movement through local groups and local action around a country.
If you were to use words like mobilising and organising to describe it, you might call it organised mobilising. March for Our Lives planned to keep a focus on the issue of gun violence by creating and sustaining the action and energy of local groups around the country.
So … are you curious about how it went?
The answer is in upcoming episodes.
Up next, we step to the side of March for Our Lives with an episode on Art and Politics, looking at another form of change making that has grown following the shooting. 
Then, with a focus on the question of identity, we look at how March for Our Lives spread after Washington through its Freedom Rides campaign. We look at how this whole movement has connected to gun violence more broadly, and how gun violence is an issue of race.
Finally we look at the question of burnout – and how the students battled the relentless pace of the work that they took on. We explore how they handled, and sometimes didn't handle that, while also being survivors of a traumatic school shooting.
So … as someone excellent once said … stay with us – this four part changemaking journey has only just begun.
HOST :  Changemakers is hosted by me, Amanda Tattersall. Remember to subscribe to this podcast to catch all our episodes. This is series 4 so there is plenty to be inspired by in our back catalogue.
Changemakers is produced by Amanda Tattersall and Ben Keating. This Series is written by Kate Wild and Amanda Tattersall, with script editing from Charles Firth, Our audio producer is Jules Wucherer. 
We want to thank the team at Parklands Rising. They helped us connect with many of the people we interviewed. They have produced an amazing documentary and we encourage you all to go and watch it for a deeper dive into this story.
Our sponsoring organisation is the Sydney Policy Lab at the University of Sydney. They break down barriers between researchers, policy makers and community campaigners so we can build change together. Check them out at https://sydney.edu.au/sydney-policy-lab/. We are also supported by the Organising Cities project funded by the Halloran Trust based at the University of Sydney. 
Like us on Facebook at changemakers podcast and check out changemakerspodcast.org for transcripts and updates on all our stories. 
And don't forget to register for one of our MasterClasses if you want to take a deeper dive into the art of ChangeMaking.
---
Join our weekly email list to hear our latest musings, podcasts and training. Click on this button to subscribe: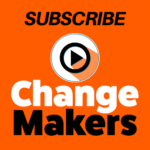 _

Comments
comments