Work with us?
Work with us?
We are on the look out for a person to conduct an evaluation of the Organising School between late October and December 2020. Details below and the full Expression of Interest is here. Due date is Wednesday 28 October.
Expression of Interest:  
Evaluation of the Organising School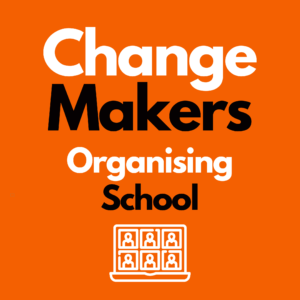 Summary
We are looking for someone who has at least 10 years experience in organising with movements and organisations (as staff or as a volunteer) to conduct an evaluation of the ChangeMakers Organising School.
While the end product will be a document, the goal of the evaluation is to:
Provide insights that help us expand and transform the program so the School can be a key site in Australia for connecting grassroots communities across the diversity of movements and activism. This includes identifying ideas for adding new training spaces, building relationships with existing training spaces, as well as adjusting the core weekly training as it runs now. It also means scanning internationally to learn from similar programs.

Help us identify ways to create more sources of revenue for the program to make it increasingly sustainable as a free training for volunteers and organisational members across Australia (and our international timezones).
How to do it?
We are open to suggestions about the process of evaluation (see below), but we expect surveys, interviews and a review of our existing data to be part of this. Our team will be able to provide you with data as requested, and can assist where possible with the logistics of lining up interviews or other meetings with people.
We are seeking someone with significant experience because we hope they bring that experience to the review. That said, we are not after someone who has 'all the answers' before they start. This program is truly unique in the Australian context – and we are looking for someone who is open to evaluating and building it with an open eye.
Payment
The successful candidate will be paid $4000 including GST. 
In addition to undertaking conversations and presentations with the Organising School team, we are asking the evaluator to prepare two documents:
First a short specific document designed for us as staff and core volunteers – discussing what works and what could change in the program (and why). 

Second a short document that focuses on analysis of the year designed for our existing and future partners and funders, that highlights the strengths of the program so far.
How to apply
We would like:
A cover letter that briefly explains (a paragraph on each is plenty):

Why you are interested in the work and in the ChangeMakers Organising School

Your experience in movements and organisations over at least 10 years. On this, we are interested in candidates with a diversity of experience.

Your experience in conducting evaluations, especially evaluations that led to actual transformation in organisations (as opposed to those ones that collect dust on the shelf)

Your experience with training as a mode of social change work (we are a training space after all)

Your experience (if any) in translating ideas you have had into funding/sources of revenue

Your CV – for additional detail about your experience

A short 1-2 page draft outline about how you would conduct an evaluation. You should assume the following:

You will begin the evaluation by late October and submit by December 2020

We will be conducting Season 3 of the course during this time, and doing surveys/interviews with participants will be easy to organise

We have two courses that we run:

The large weekly Organising School

A Leadership Intensive (that is being piloted right now)

Staff (Isab, Will and Amanda) are available for interviews and for a 'focus group' style conversation

We don't want a really long report – we want something that we can implement in our planning as we head towards 2020. Draft reports, or a way to provide updates on your developing 'thinking' from you would be useful

The budget is fixed, so we aren't expecting thousands of interviews – we are asking you to identify how you would use those resources to best effect

We want to receive EOI's by COB Wednesday 28 October – please send them to Isabella Morand at [email protected] and mark the subject of your email EOI Evaluation Submission.
We want to underscore – this is an EOI. It's not a PhD. This should only be brief and we don't want you to take a long time on this. A few hours at most. 
You won't be judged on the granular detail but rather by your experience and your overall capacity for the work. Our team includes experienced evaluators and organisers and can work with a talented person with a solid proposal and help make it great. 
We are looking for someone who wants to partner with us on this – work with our team to make this Organising School shine and thrive in 2021 and beyond.
If you have questions – feel free to email: [email protected]
You can download this document here.
Thanks,
Isabella and Amanda Tattersall
ChangeMakers Organising School