Work with us?
Work with us?
We are on the look out for a new role.
ChangeMakers producer-researcher-organiser needed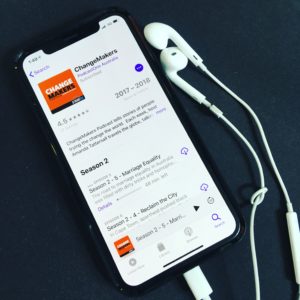 We are looking for someone with a special mix of skills to help the ChangeMakers podcast team on an ad hoc, contractual basis. This is the kind of work that is well-suited to someone who already has a main gig and is looking for something creative on the side. Or, who is looking for something that is variable (details below). The work does not need to be done in Sydney but does require access to fast internet and the person needs to be available for conversations during AEST business hours.
Roles
We are looking for someone who can do all of these quite different roles:-
Help produce our ChangeMaker Chats
That means:-
Reviewing already recorded interviews, including doing paper edits and marking up how these should be cut for final podcast form

Liaising with our audio producers to finalise podcast content (they do the actual editing)

Drafting the script that introduces the podcast 

Episodes are released fortnightly (minimum), so this work constitutes approximately 3-5 hours work per fortnight (this work can be done flexibly).
Producer/organiser for ChangeMaker Story episodes
We are looking for someone to help with pre-production work for our story episodes. That includes:-
Identifying and lining up suitable talent based on production scripts

Scheduling interviews with talent

Doing initial preparatory research about talent to prepare host for interviews

Variable time, seasonal work. When preparing a series the work is approximately 3-5 hrs a week. This happens 3 times a year and lasts for about 6 weeks.
Skills you would have
We anticipate someone having a mix of these skills/knowledge/passions:-
A tested love of social change (must have).

You don't just care about it, or tweet about it, you do it. You have been part of on-the-ground change, and in doing so have some insights about what works and doesn't work. You bring these ideas to the team, to the scripts and to how we plan future episodes of the podcast.

Communications experience.

This could come in a variety of forms – you have produced great radio/podcasts before, or you have writing experience and know what to look for in a good story. Or you may have done communications work for an NGO, student newspaper/radio or something similar. We are looking for people who know how to tell a story, who know "what content to keep and what to cut." That takes confidence that often comes from experience.

Great organising skills.

Making our story podcast is a juggle: chasing a range of ever-changing contacts, schedules and plans all to a timeline. Someone who has been a media producer or a social change organiser (or an event organiser), would have the right pre-existing skills. This work takes boldness (sometimes a shameless) willingness to find people, contact them and call them at weird hours (because the world's time zones don't stop for us!). You will have the tenacity to contact people until you get them – or find a creative way to make that happen (how do you think we got that Brooklyn 99 story!).

Ambition.

We want someone who wants to be part of our ChangeMakers vision. We produce amazing content to inspire and educate the140 million ChangeMakers across the world. That ambition might include generating ideas for new projects, and it also might include learning to take on new responsibilities for content production in the team. This could include story reporting (interviewing), story writing, generating ideas for new stories and more.
In terms of time, we want to be clear that this is an unpredictable job. It's a contract role and some weeks may have up to 5 hours work, other weeks might have none. We anticipate that if our plans come to fruition that more work will generate. But we want candidates to know that we can't be certain of this now.
The pay will be based on an hourly rate, and be between $30 and $40 an hour based on experience/fit with the above criteria.
We are looking for people right now, so get in touch now if you think this works. Unless someone completely bowls us over with their application, we will do a first cut of what we have received on 19 July. Send a short cover letter explaining your eligibility re the criteria and a cv that outlines your experience to [email protected] as soon as you can, and definitely by 19 July.