Register for Changemakers Organising School – 2021
This year we will run 3 seasons of Organising School, each with a different theme. Season 1, focused on working in powerful and effective local groups, starts April 29. Register your interest for updates here. More information about our weekly training offering is below.
We're also presenting a special event this Thursday April 8. Join us at 6pm AEST for a conversation about People Power & Organising – we'll be joined by a stellar panel and talk about the history, strengths, and challenges of a Community Organising approach to people power. All the info and RSVP here.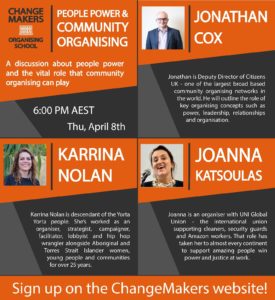 2021 Season 1: Working in powerful & effective local groups
Starting April 29, every Thursday at 6 pm to 7:30pm AEST we'll run a free training on how to make change, with a focus on Community Organising in local action groups. This training is especially designed for volunteers and members of movements and organisations interested in progressive change.
Our training is designed to be a space for connecting with changemakers across different causes, building skills and relationships to better equip you to win on your local campaign. This season, we'll unpack:
The history of local groups in social movements and why this is a powerful way to win real change

The core and commonly overlooked skills of running an effective group – how to have good meetings, great processes, recruit others to your group, and deliver powerful campaigns

How to make sure your group is sustainable, healthy and strong in the long term – and fun!

How to work in coalition with others

Relational skills including leadership, coaching, respecting difference, and working through difficult moments
The RSVP for this training is coming very soon! But put it in your calendar now – Thursday nights, from 6pm-7:30pm, starting April 29 and ending June 24. And register for updates, and the RSVP link when it's ready, today.
We're community organisers from across a variety of movements, places and ages, and while we love all kinds of change making, our focus is on building relationships and people power. We value leadership development and, through the training, we seek to explore and understand concepts like power, action, organisations, narrative, relationships and action as the bedrock for building a democratic public life.
And we love having people from all walks of life and different social movements on this course. This training is a great way to connect with people who are different from you and learn more about how we can all work together.
If you'd like to read more about us and the purpose of our training – click here!